Attract customers, increase bookings and amplify the value of customer data
Our commercial suite of products is designed to help hospitality operators of any size to deliver more great guest experiences.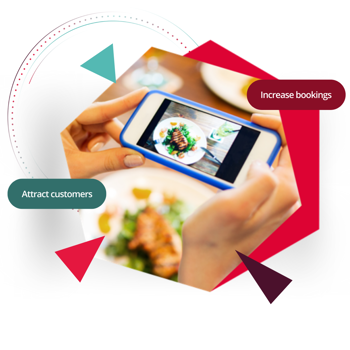 Provide a seamless 'Find, Book and Enjoy' experience
With DesignMyNight.com marketing to generate bookings, which can easily be managed with Access Collins Enquiries and Bookings Management, your customers can enjoy a seamless Find, Book and Enjoy. 
Once in venue, the experience is slick for your customers and staff – with reliable Access EPoS and Order & Pay at Table from Access Orderbee
And with Access Acteol CRM for Hospitality to complete the suite, you can capture and amplify the value of all customer data with a complete customer view and marketing tools that will help you deliver personalised, relevant and trackable campaigns that increase visit frequency, drive revenue and deliver significant returns on your marketing spend. 
Explore our software
Software to support you in delivering a great guest experience
How our software supports you
Deliver great guest experiences 100% of the time
We can help businesses of any size deliver a great guest experience which starts at discovery through www.designMyNight.com and continues through the customer's booking and reservation journey.
In-venue experience is seamless with reliable Access EPoS and Order and Pay technology to deliver the most efficient and adaptable service possible. Finally, use Access Acteol CRM for hospitality to capture customer data and manage communications to your guests to keep them coming back. 
Read more in our article, how to improve customer experience >
Attract more customers
DMN.com marketing and discovery gives them access to a unique discovery platform and community of 3.8M Hospitality fans per month. Help your customers to Find > Book > Enjoy and Come Back with DesignMyNight.com marketing and in-site search results that let your customers find, check availability and book their perfect venue. 
Increase bookings and conversions by up to 24%
Personalise your bookings and enquiries management system to your business – running an afternoon tea or tasting menu experience? Or showing this weekend's big game? Customise Access Collins to suit you, and benefit from a proven significant increase in bookings and conversions. 
Increase the value of each customer visit
With the ability to serve customers smoothly, include great value upsell deals during the booking process, and the ability to make relevant suggestions to your customers in-app whilst they order at table, you can positively impact the guest experience and encourage them to spend more in-venue. 
Amplify the value of your customer data with a true single customer view
Use customer data segmentation, campaign builder tools and reporting to deliver personalised, relevant and trackable campaigns that increase visit frequency, drive revenue and deliver an average of over 12x ROI on marketing spend*. (ROI calculation based on average of 5 customers varying between 5 and 20 sites). 
Find out how our software solutions can deliver great guest experiences