Purchase & Sales Automation
Purchasing Software
Purchase order software for more efficient and controlled purchase processes.
Use integrated purchase management software to gain complete control and visibility across the entire procure to pay process.
see the software in action
Integrated purchasing and accounting software
Make managing the procure-to-pay process simpler and smarter, from beginning to end. Integrated purchase management software helps you save time, reduce errors and increase financial and procurement visibility.
The procurement software enables non-finance staff to raise purchase requests and verify receipt, approval workflows keep control of purchases, costs and payments, while automated purchase invoice processing helps remove admin and speed up payment processing.
Purchase order management
Access purchase management module enables you to efficiently manage purchases, payments and receipts — whether made by finance or anyone else across your business.
Online forms: allow non-finance staff to request new suppliers and raise purchase orders using simple online forms
Document management: upload and store documents against financial transactions
Budget checks and tracking: keep control of costs with automated budget checks and commitment tracking at a nominal or project level
Automatic data capture: automatically capture invoice data, match POs and manage payment conditions
Multiple currencies: suppliers can have multiple currencies — automatic exchange rate conversion and VAT rates mean less room for error
Approval workflows: ensure all purchases and payments go through the necessary approvals channels and processes. Email notifications and mobile apps let managers quickly approve purchases, invoices and exceptions
Payment options: select items for payment or part-pay items using suggested payments
Data storage: store supplier agreements and track purchase history for analysis and auditing.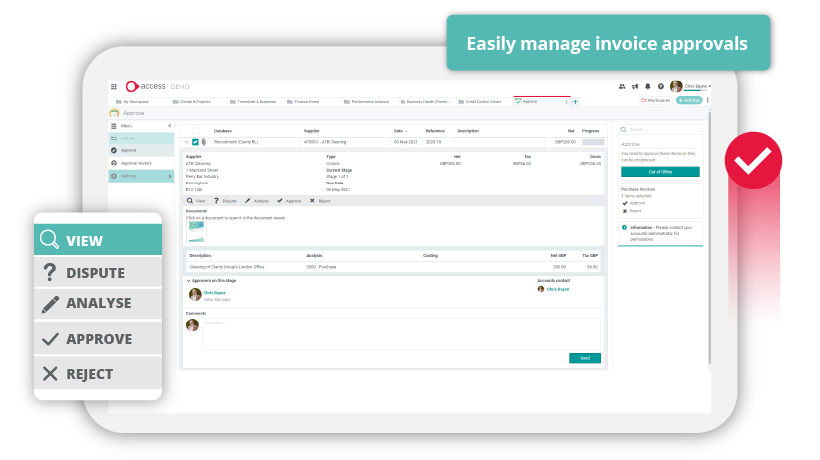 Automate purchase invoice processing
Remove manual and paper-based processes with automated purchase invoice processing. Save time, eliminate errors and speed up invoice processing for improved supplier relationships.
Automate data entry: scan or email documents you want to capture. OCR technology extracts the required data – no need to key data, no delays and a full audit trail
Enhanced checks: the software checks for accuracy, duplication and fraud, and automatically matches invoices to purchase orders
Secure electronic document storage: documents are stored in Access highly-secure UK cloud datacentres for paperless backup and audit trails
Approval workflows: invoices are automatically reconciled and routed to the appropriate approvers. Email reminders speed up processing, helping you avoid late payment penalties and exploit early payment discounts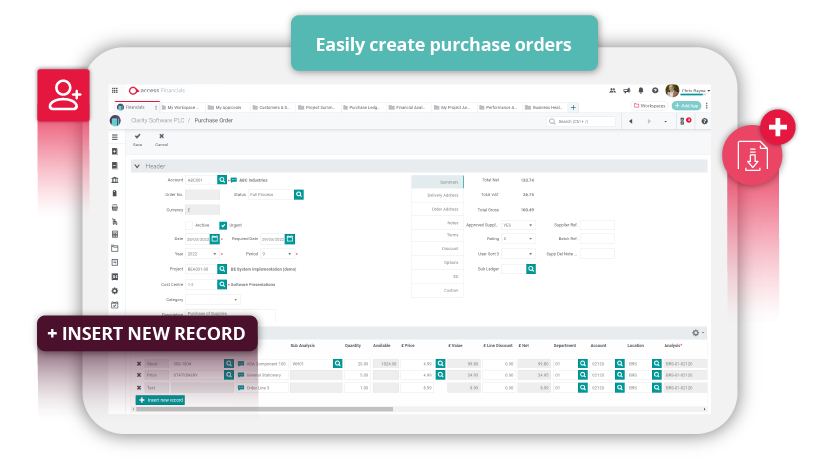 Integrated company health data
Industry-leading commercial credit information from Experian blends with your financial data to ​give you an instant view of your suppliers' financial health.
Quickly check new suppliers: commercial credit reports let verify supplier information and uncover any hidden financial or legal risks involved before making supplier decisions
Monitor existing suppliers: Business health dashboards give you early visibility of changes to a supplier's risk profile, so you monitor changes and mitigate business risk
Find out more about the purchasing management module – get a demo
Need more info? Get in touch and let us help 
contact us
What is purchase order software?
Purchase order software is a system that manages the purchase-to-payment process for a business. Efficiency, cost savings and increased financial and procurement visibility are key benefits.
Access Financials Purchasing module enables you to efficiently manage the full procure-to-payment process with easy-to-use purchase requisitions, robust approval workflows, and automated invoice processing.
Access Financials purchase order management software is available through Access Workspace, so you'll also benefit from:
Everything in one place: all your Access software, data and processes joined up and in one place for greater productivity
Easy-to-use apps: empower your people to self-serve and access real-time reporting – removing endless requests and bottlenecks
Advanced analytics: combine your financial data, with your other Access products and third-party data sources into a single, up-to-date view to help your people make the best decisions
Industry-leading UK cloud hosting: 100% uptime performance, GDPR compliant, enterprise-level security, automatic software upgrades and backups and 24/7 UK support
What is purchase order software used for?
With purchase order software, you can create and send purchase orders online. The software allows you to keep track of orders and deliveries at every step. It can also ensure the right information is going to your suppliers and provides accurate documentation of what has been ordered.
Automation is key with purchase order software as it automatically compares the purchase order to the goods received, to the supplier invoice. In the event that something doesn't match it is flagged for manual intervention.
What is difference between procurement and purchasing?
Procurement and purchasing are similar but they have clear differences. Procurement is the process of identifying, shortlisting, selecting, and acquiring products or services from a third-party supplier. This can be completed by purchase, bidding or a tendering process that also involves negotiating contracts and maintaining relationships with suppliers.
Purchasing is buying products and/or services because it is a requirement of the business. The purchasing process includes ordering, receiving, and fulfilling payments. Examples of activities of purchasing include receiving purchase requisitions, evaluating quotes from suppliers, raising and processing purchase orders, and organising payment with suppliers.
Is it time to switch your finance and accounting software?
Choosing the right finance and accounting software is often a daunting task, but it doesn't need to be. Our expert guide explains everything you need to know when switching finance systems - from considerations before starting the project to implementing your new software quickly and easily. It also includes useful templates to help you manage your switching project.
download guide
Would you like to see our purchasing software in action? 
Enter your details and our finance specialists will give you a demo and answer any questions you have.