Hospitality EPoS
Access Hospitality EPoS software gives hospitality operators the technology to drive efficiency and run a more profitable business, as well as provide exceptional guest experiences from one trusted source.
book demo
download brochure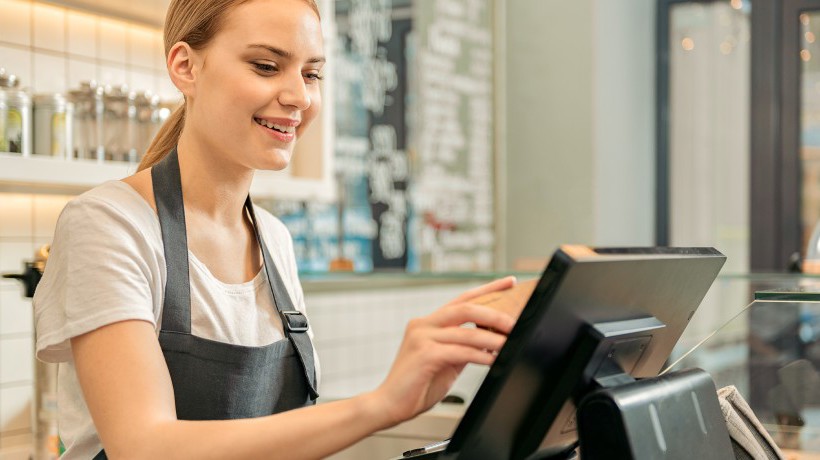 A clever and intuitive EPoS system
From pubs, bars, and restaurants, food-to-go and coffee shops to hotel and leisure operators, our modular systems enable hospitality operators to rethink and reimagine the traditional EPoS till beyond solely offering an electronic point of sale. Our comprehensive system offers a range of business benefits to get your business working faster and smarter.
Key benefits of our hospitality EPoS
Simplify customer interactions

-

A highly configurable hospitality POS solution that is easy for your teams to use and delivers intuitive automatic upselling prompts and product details to boost customer service and profitability

 

Faster and more accurate service times

-

Work faster and with greater accuracy and deliver better communications between the front of house, kitchens, and the back office. Handheld ordering and our kitchen display system streamline services and reduce manual task loads. 

 

Integrate with popular apps -

Seamlessly integrate and interface with all the major payment methods as well as loyalty schemes, online shopping platforms and major food delivery apps to help you drive more revenue. 

 

Extensive business reporting -

View real-time sales reports available within seconds of transactions taking place in customisable online dashboards where you can define the key performance indicators to monitor performance across your estate. 

 

Reduce waste -

Stock result dashboards are configured to your operational needs so you can manage purchase ordering, recipe costings and controls, deliveries, returns and transfers with head office central purchasing with ease. 

 

Partnerships -

And with our range of specialist partnerships and integrations, no other provider can match the reliability, flexibility, and adaptability of our hospitality EPoS software for our multi-site customers.

 
book demo
download brochure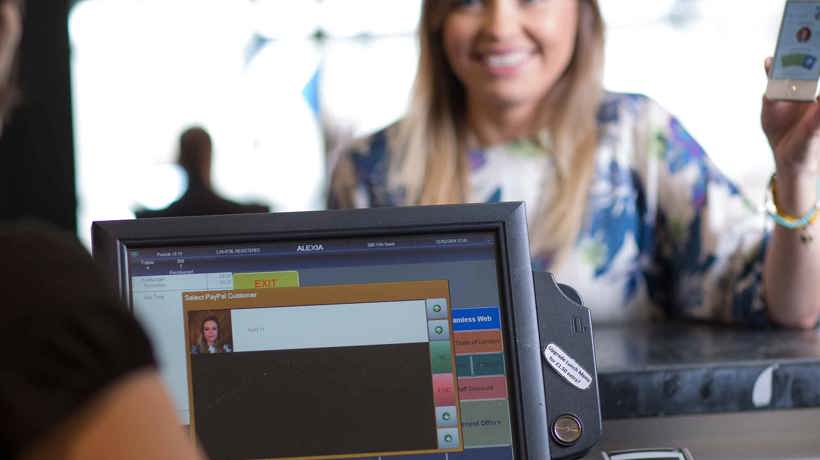 EPoS technology
Easily configured for table, mobile, quick service and kiosk service styles, our easy-to-use touchscreen helps you speed up service, promote sales and deliver an exceptional guest experience. 
Our intuitive and easy to use cloud-based EPoS system is perfect for busy bars, pubs and restaurants to make serving customers quicker and easier and supports all traditional and modern payment methods.  
Modern architecture design with no back onsite server  
Easily configured for table, mobile, quick service and kiosk service styles 
Offers intuitive upselling, promotional and grouping prompts to increase sales 
Deliver more accurate orders to deliver a better guest experience
Customer experience is the key to success for any restaurant. Find out how hospitality operators are driving profitability through the till - download guide
Stock control & management
A cloud-based stock and resources management tool designed for multi-channel retailing environments where every transaction and stock movement are available for analysis within seconds of them taking place.
The most robust and reliable stock management solution on the market, our stock result dashboards are configured to your operational needs and give you real-time sales, staff, and stock data 24/7.
Cloud-based stock management platform  
Monitor transactions and stock movements in real-time 
Manage cash, stock, and resources effectively  
Share data easily across applications  
Manage purchase ordering, recipe costings and controls, deliveries, returns and transfers and head office central purchasing with ease 
Cash and stock control software will safeguard precious resources - find out more
Comprehensive reporting
Access your business data across all functions 24/7 in real-time to help you manage your cash, stock, and resources effectively.  
Our rich and mature reporting suite has been built on the back of years of industry experience and customer feedback to deliver effective and insightful real-time reporting to optimise your business processes.  
Real-time sales reporting and cloud reporting from anywhere within seconds 
Generate business sheets that help you control all aspects of sales and cash management in a weekly overview 
Mobile estate overview reporting and drill down analysis to transactional sales in easy to view format 
Instant reporting and key performance indicators highlight issues for quicker resolution  
Use real-time reporting to inform business decisions across finance, purchasing, marketing, human resources, and customer services to optimise processes and protect revenue.
Online ordering
Omni channel online ordering via business partners such as Deliveroo, Uber Eats and FlyT pass seamlessly through our suite of APIs.
Kitchen display system
Manage food operations from kitchen to consumer, improving the food pathway and allowing greater visibility of performance data.
The Kitchen Display System (KDS) provides precision control wherever food is prepared and served. Designed to improve the food pathway and deliver greater visibility of key performance data, our KDS runs in conjunction with our touchscreen EPoS software to connect front of house and kitchen teams.  
Real-time information hub for kitchen staff to check recipes, view training videos and access relevant content  
Configurable to meet the specific requirements of multi-site food-to-go, QSR, pub restaurants and fine dining environments 
Provides data analysis and key performance indicators to ensure kitchen consistency and brand integrity 
Ensures orders arrive on time and to full menu specification  
Automate manual tasks and eliminate human error and lost bits of paper! 
Menu manager
One of our newest pieces of functionality in 2021 is our Order and Pay Menu Manager which is part of Access EPoS and enables you to manage your partner ordering channels such as mobile, delivery and kiosk, all in one place. 
From within Access Workspace, you can manage your menus, pricing, channels, scheduling and consumer content using the site, PLU item and pricing configuration directly from your EPoS system. 
Easy-to-use drag and drop system   
Create and organise menus  
Filter by site  
Manage multiple channels in one place 
Easy management of apps and content management 
Control consumer-facing content to populate ordering apps and kiosks 
Add up-sell items to your dishes  
Unlimited channels 
Easy and intuitive to use, our menu engineering software enables you to create and customise your menus and make quick changes; enabling and disabling items should they run out and auto scheduling menu changes and pricing.
Integration with popular apps
Access EPoS partner with the biggest names in the hospitality industry and were the first to integrate with Deliveroo demonstrating our forward-thinking attitude and keeping our customers ahead of the game. 
Seamlessly integrate and interface with all major card, contactless and mobile payment solutions as well as loyalty schemes, online shopping, order ahead and reservation solutions 
Our partners include:  
Payment apps such as Apple Pay, Google Pay, Verifone, Payment Sense and WorldPay

 

Loyalty and engagement apps such as Feed it Back, Pepper, Yoyo, Eagle Eye and 5 Loyalty

 
Order ahead and delivery apps such as Orderbee, FlyT, Preoday, Uber Eats and Deliveroo 

Table reservation apps such as Access Collins and ResDiary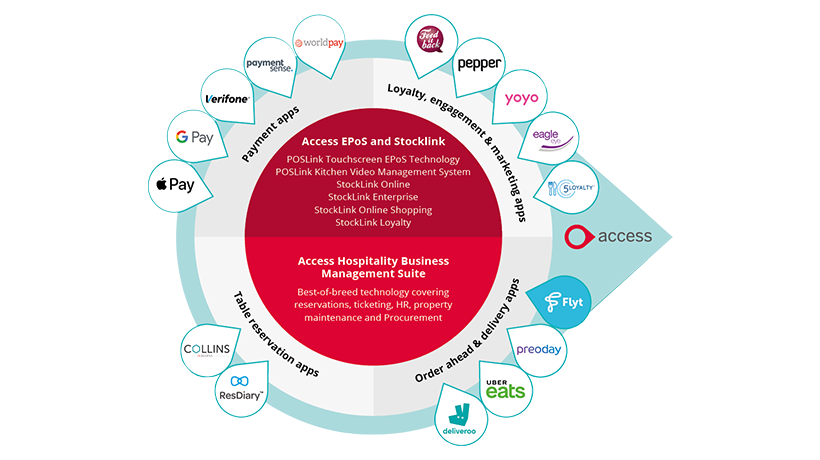 What our clients say...
They provide our EPOS, business management solutions and real-time reporting and intelligence. All of which helps us create the best pubs in Britain.
What our clients say...
As a growing multi-site operator, we wanted to ensure that we selected the right systems solution partner to support our business goals.
What our clients say...
We were happy to draw on the equipment and technology that Access offers, and also the best practice implementation. 
read the full case study
Hubbox
The Hubbox team tell us how Access's EPoS technology has made a huge difference to their operations seeing an increase in overall GP of 6% in 12 months.
As Hubbox implement Access HR & Scheduling software into their business and begin to the process of bringing in Access Procure Wizard, they discuss the impact they expect it to have on processes and overall business efficiency.
Commercial Manager, Jonny Findlay tells us why he's genuinely excited about the prospect of Access Workspace which brings EPoS, reservations, ticketing, purchase to pay, HR and scheduling, property maintenance and finance analytics in one window with a single sign on and consistent UI.
"The reporting capabilities are incredible and the amount of visibility of data we have compared to a couple of years ago. I've easily saved myself two days per week on administrative tasks which has given me the freedom to work at a more strategic level focusing on improving business performance."
read the full case study
See how Access EPoS can help you to
 drive efficiency
book demo
What is EPOS for hospitality?
Electronic Point of Sale (EPoS) is the combined hardware and software that allow you to run your hospitality business effectively. Allowing operators to not only facilitate orders and payments but also provide real-time reporting and stock management.
How does EPOS help hospitality? 
An EPoS system for hospitality will have the functionality needed to operate a food and beverage based service effectively and efficiently. The system should be easy for staff to use and also optimise communication points between front and back of house teams for more accuracy and efficient service.
What are the different types of POS systems?
Point of sale systems for hospitality range from basic hardware to facilitate taking payments, to fully integrated systems that connect your whole operation and are used across multiple sites. Our EPoS solution has been specifically designed for hospitality operators and can be configured to address the needs of your business.
Orderbee Mobile Order and Pay
Orderbee Order and Pay at table is designed to enable any hospitality and leisure operator, of any size, to deploy mobile order and pay rapidly and at scale. Created specifically for hospitality it seamlessly integrates with your EPoS, CRM, payment gateways and guest services.
With Orderbee you get to choose from flexible set-up options to ensure the right fit for your business.
Classic Order and Pay at table
Pay Only option allowing for service flexibility
Gratuities and bill splitting facilities
Click and Collect option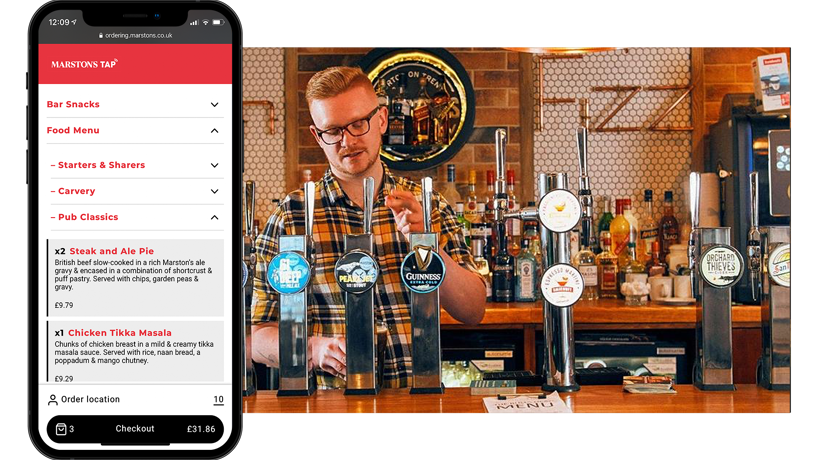 Drive efficiency and run a more profitable business
book demo