A comprehensive suite of HR software solutions
Our HR software solutions in numbers
See how our HR solutions can help you build a truly people-centric organisation
book demo
Workforce management
Our workforce management solutions support you in delivering a joined-up approach to managing core operational HR processes.
From onboarding to time and attendance, absence management and rostering – underpinned by reporting and analytics tools – you can optimise, manage and empower your modern workforce.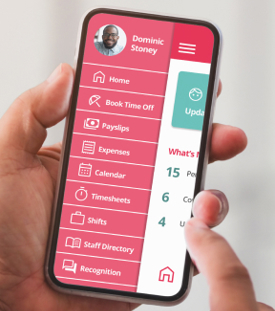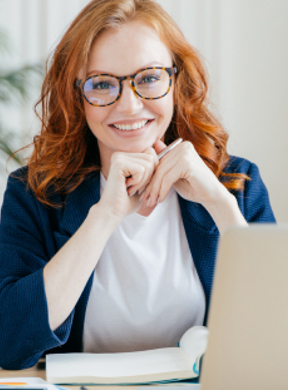 HR and payroll software
Our flexible payroll management solutions help to simplify payroll processes and ensure transparency, efficiency and compliance.
With scalable HR and payroll software, suitable for businesses in the UK and Ireland – as well as online payslips, an on-demand pay app, and an outsourced payroll service that is 99.9% accurate at first run – you can ensure your people are paid on time, every time.
Our payroll solutions include: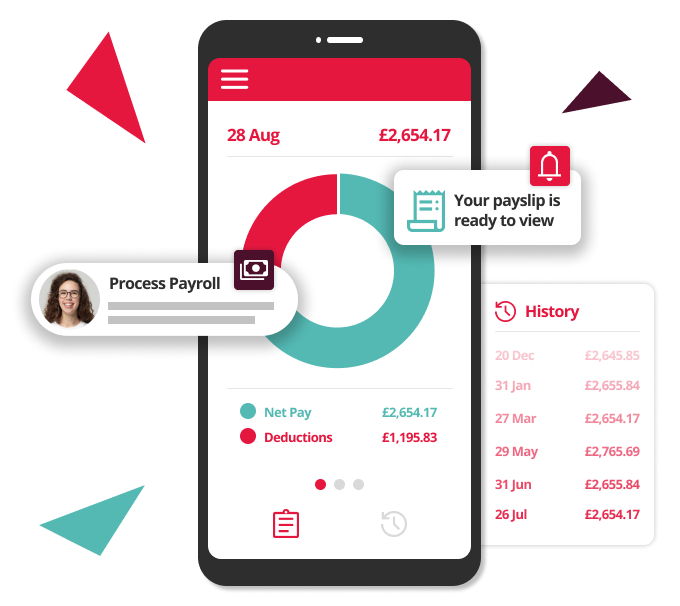 Talent management
Empower employees to develop skills, drive performance and foster career growth.
With tools to support recruitment, succession planning, performance management and appraisals, learning, career development and recognition, our talent suite encompasses everything you need to develop, engage and retain your people.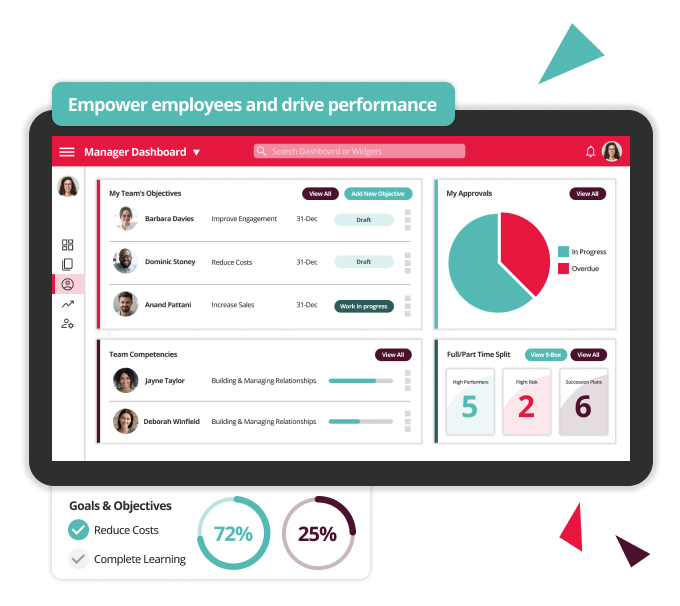 Recruitment
Attract, hire and onboard the best candidates with our HR recruitment software, and reduce recruitment admin.
Find everything you need to make smart recruiting decisions aligned to business strategy, with branded careers websites, an applicant tracking system, screening and onboarding software. Our recruitment solutions for HR professionals can streamline and automate recruitment processes and enhance your candidate experience.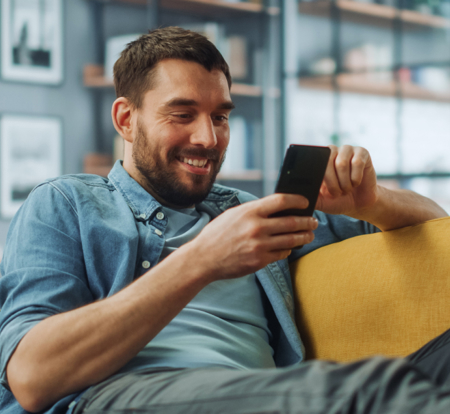 Reporting
Get a single source of truth from your HR solutions with our reporting and analytics tool, and make sure data is at the heart of your strategy.
From easy-to-understand charts, to role-specific dashboards and tailored reports, our HR reporting software gives you all the analytics and reporting functionality you need to make informed decisions about your people.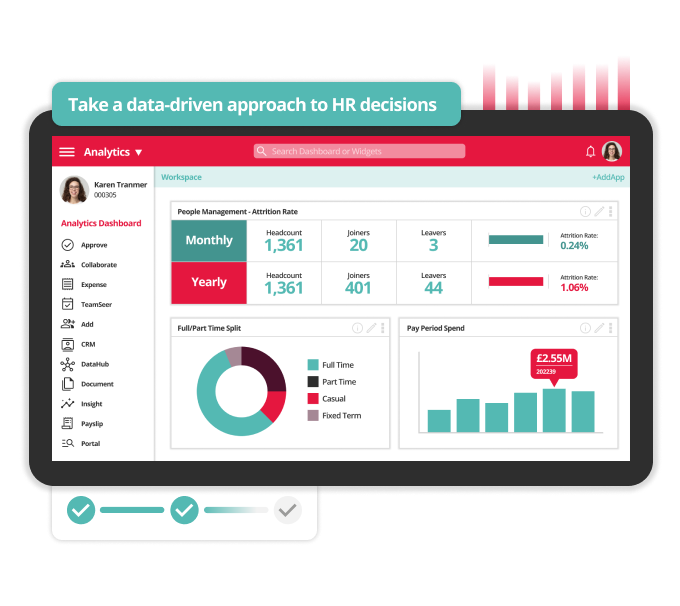 Find out how our flexible HR software solutions could work for your organisation
download brochure
Discover end-to-end HR software with PeopleXD
Access PeopleXD is our flexible HR and payroll solution that spans the entire employee lifecycle, designed for medium and large businesses and fast-growth organisations with 250+ employees.
End-to-end people management
Flexible, modular, scalable, secure
Joined-up data 
Employee and manager self-service 
Consumer grade mobile experience
Real-time reporting
Trusted – by more than 100,000 employees, managers and HR professionals
With Access HR software, our customers have achieved…
20
hours saved per month
"A roster that took 6 hours to write now takes less than 60 minutes. It's not often we get the chance to hand back five hours to every senior manager every week." Cineworld
40

%
OpEx savings
"The new HR & Payroll system has well exceeded the original objective of a 40% reduction in system/service costs, with savings of £1m+ per annum." The Co-operative Bank
50

%
reduced admin
"The system is now contributing to efficiencies in excess of £1m per annum for the team and has reduced its HR administrative processes by 50%." Gatwick Airport
Which HR solution is best for your business?
HR solutions for mid-large and complex organisations
Is your organisation fast growing or have levels of complexity that demands more flexibility and scalability from your HR software?
Access PeopleXD is our secure, unified HR and payroll solution specifically designed for mid-large and fast-growth organisations with 250+ employees.
Discover whether our integrated HR software is right for you.
HR solutions for SMBs
If your SMB organisation is looking for easy to use HR software that is quick to implement and simple to manage, find out more about our UK hosted PeopleHR solution.
Upgrade from spreadsheets or outdated systems and help reduce HR admin.
Discover more about PeopleHR.
Proud to be working with 13,000+ organisations in the UK and Ireland
An industry leader in HR software solutions
Access has been recognised as a core leader in the provision of HR software solutions by Europe's leading HR Industry Analyst, Fosway Group.
The Fosway 2022 9-Grid™ for Cloud HR, recognises our breadth of HR software solutions, and our track record and strong performance in supporting medium to large-scale organisations with their HR needs – helping to reduce complexity and at a lower cost of ownership than Strategic Challengers and Strategic Leaders.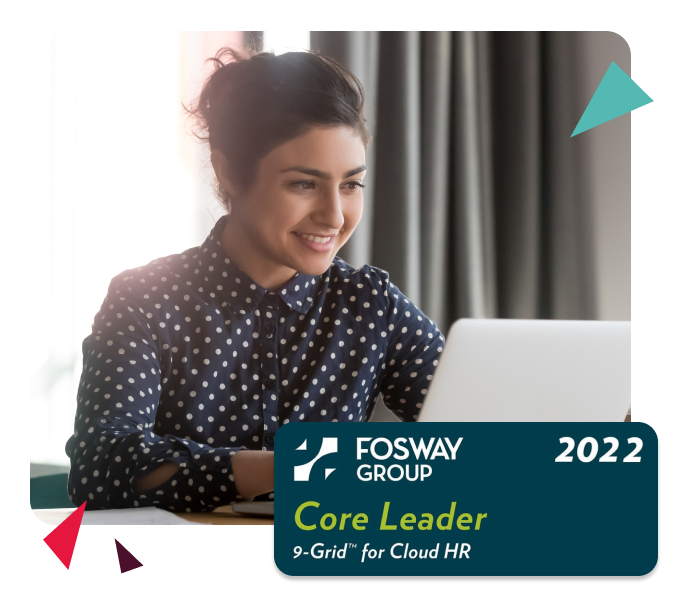 Discuss your requirements with one of our HR software specialists
get in touch
HR software solutions FAQs
What is an HR solution?

An HR solution often refers to digital tools that help streamline and automate admin-heavy HR tasks. Modern HR solutions should help organisations to drive efficiencies and add business value, whilst supporting more strategic longer-term HR goals of attracting and developing talent and engaging employees.
What is HR (Human Resources) software?

HR software, or Human Resources software, is a system that simplifies and automates HR processes. Online HR systems give HR departments access to the data they need in a digital platform (using the cloud). It also allows HR professionals to stay in control of various processes, from training and onboarding to managing payroll.
What does HR software do?

HR software is used by human resource departments to automate and streamline tasks and processes. It's digital, providing analytics and insights for businesses as well as tools and resources for employees. Many integral processes can be streamlined using online HR systems, including recruitment, people management, absence management and compliance. 

Learn more about  enhancing productivity and automating your core HR tasks.
What is the difference between online HR software and on-premise HR software?

The main difference between online HR software and on-premise HR software is in their implementation. Often referred to as software as a service (SaaS), online HR software is accessed via a web browser and hosted on a cloud server, usually by the HR software vendor. On-premise HR software on the other hand is installed on in-house computers, using internal or outsourced servers. 

The biggest difference is in long-term scalability. On-premise systems tend to be costly, with limited scalability and rely on a robust internal IT infrastructure. Cloud-based HR software tends to be quicker to implement and a lower learning curve for existing employees and with fewer resources required to get up and running. Online HR software usually features automatic updates and ability to add or adapt your solution as your needs change, ensuring your HR software investment is future-proofed.  

Moving to the Access cloud-HR solution PeopleXD saw customer Gatwick Airport achieving circa £250k in OpEx savings, efficiencies in excess of £1m per annum and a reduction in HR admin by 50%.
How does HR software interact with payroll?

Using advanced HR software, you can integrate payroll using workflows to streamline and automate tasks. Your HR software will be able to automate and store payslips, while self-service functionality will enable employees to access these whenever they might need them. In this way, choosing an integrated HR and payroll system can have a real impact on the employee experience.  

Many businesses are still using disparate systems to manage their people and their payroll processes, which can lead to data errors, employees being paid late or incorrectly, and time-consuming and risky manual amends to systems to make them more aligned. Integrated HR and payroll software like PeopleXD supports business agility and resilience - reducing the reliance on individuals and giving you confidence and peace of mind that any data relating to your people is up-to-date, secure and accurate.
How to choose the right HR software for your business?

When choosing HR software for your business, consider the provider's level of experience and customer support. Look for integrated solutions that are powerful enough to simplify complex tasks and consider a solution that is appropriate for the size of your business, with the ability to scale to your needs as you grow. This will save you time and money and ensure your investment is future-proofed. 

Most of the businesses we work with have previously been either paper-based, using disparate and disconnected systems or required end-to-end HR software with the data and functionality to help them develop their wider people strategies.
How do you make a business case for new HR software?

Building a solid business case for investing in new HR technology will be fundamental to its success. The critical parts to a business case for new HR software will include how the new technology will integrate with your other business systems and how you plan to measure the return on investment (ROI). 

Other considerations for your business case could include: 

Gathering the problems and challenges you currently face, whether that's a poor user experience, disconnected systems, insufficient data visibility or lack of employee self-serve functionality, along with the quantitative and qualitative data from your existing HR system and experiences to back up these issues. 

The risks of not upgrading your HR software – declining retention rates, reduced productivity, data errors or lack of required functionality to scale for example 

The opportunities of upgrading your HR software – will it give you the ability to track, manage or influence aspects of your employee experience that you can't right now? Does your HR software allow you to be future-focussed, people-centred and business-oriented? 

Download our free guide to learn more about building the business case for a new HR system. 
HR software solutions for all sectors and industries
HR and payroll blogs
Our HR and payroll blogs offer advice and guidance from industry experts.