Construction software to help your organisation​
Our end-to-end construction software solutions address many challenges in the industry, such as siloed working, multiple static data sets, rising costs and lack of visibility as projects shift and change daily. Recording data in real-time, our construction software provides a single view across an entire project, so you can control your costs, improve the accuracy of your estimates and optimise productivity on your construction sites. From Estimators and Contractors to Quantity Surveyors and Financial Directors, our construction software solutions have you and your team covered in one system.
Why choose software from Access Construction?
Two core industry products, Access EasyBuild for construction management and Access ConQuest for construction estimating, plus a comprehensive suite of business software solutions to support your construction organisation.
Seamless implementation for our construction software, with product training and dedicated customer support as standard.
We work with 70% of the top 100 construction companies in the UK, as well as 80,000 sub-contractors so you can be confident you're choosing the right partner for your construction software.
Speak to our construction software specialists
Use the form to get in touch with our expert team, so we can book a time in your diary to run through our construction software together. We have a range of features we can talk you through that'll help to transform your business, and we'll provide a tailored quote based on your needs.
Construction Estimating Software​
Access ConQuest​
ConQuest is our easy-to-use construction estimating software solution, chosen by over 900 UK-based contractors to increase control over estimating costs, improve accuracy in construction tenders and reduce problematic duplication of admin tasks.​
Discover how our construction estimating and pricing software can cover all your tenders and estimating needs and help your business to win more work.​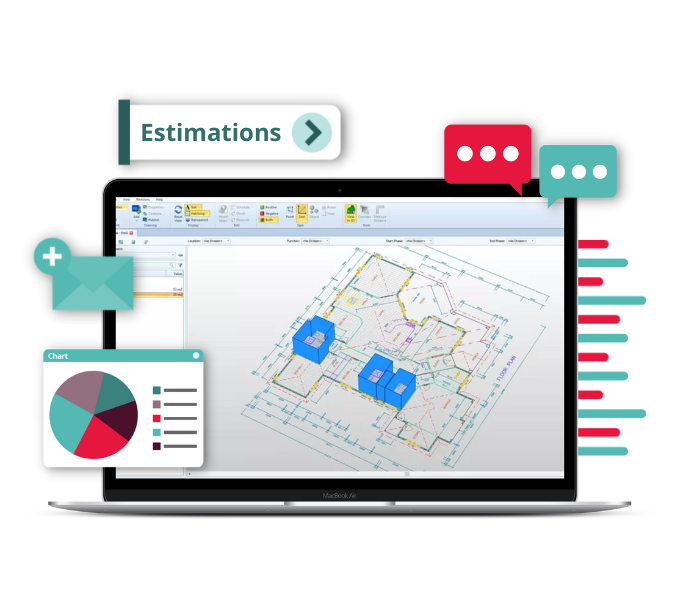 Construction Management Software
Access EasyBuild
Our award-winning* construction management software, EasyBuild helps construction site managers to have complete visibility of their projects across multiple sites on one platform.
With a real-time dashboard, and efficient analytics and reporting tools, our construction management system will work seamlessly with your data, while a dedicated mobile app means you can collaborate in real-time with your team from any location.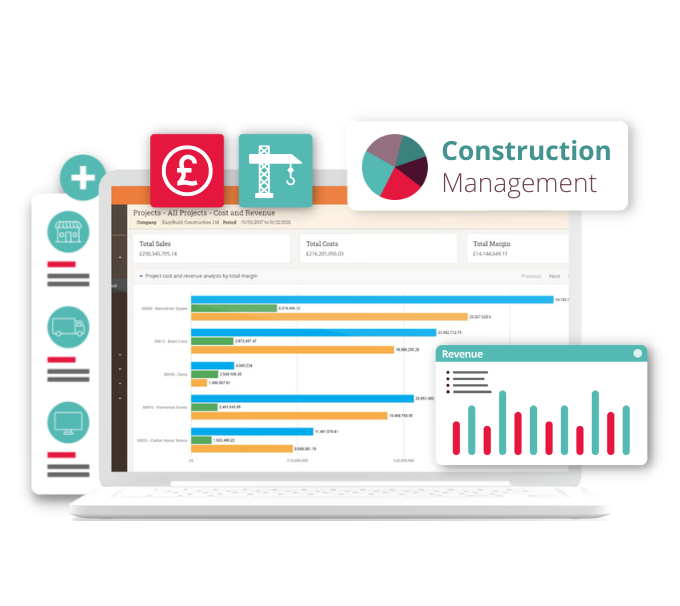 Construction software FAQs
What is construction software?

Construction software helps with the management of your projects, people and data all from one secured platform and in real-time. Removing time-wasting admin work, streamlining existing processes and ends the use of endless paper trails
Why use construction software?

Construction software will transform the way you operate and make your life easier. Having one single view of the truth allows you to make quicker decisions based on real-time data and boost profit margins by clearly seeing where your spend is going. Having construction software improves productivity on site by streamlining processes through use of mobile apps and reducing in duplication of work.
What is ERP and why do you need it for your construction site?

Enterprise resource planning (ERP) is a type of software that construction companies use to manage day-to-day activities such as estimating, accounting, procurement, site management, HR, compliance, plant and asset management. A complete ERP solution includes performance management that helps plan, budget, predict, and report on your company's financial results. 
How much does construction estimating software cost?

The cost of estimating software will vary depending on how many users to need to have access to the system. We can work to your budgets and create a solution for your company that is suitable. This can be discussed with one of our construction software experts.
What are the benefits of using construction software? 

Boost productivity by streamlining processes and strengthening communication across different departments with our ease-to-use construction software tools  
Make the right decisions every time with advanced reporting, analytics, and real-time dashboards which provide accurate information
Reduce time-consuming admin tasks, duplication and errors by hosting all your data in one safe secure platform  
Increase your profit margins and improve your decision-making across all your construction projects, by having real-time visibility of your costs.    
What are your accreditations? 
Our construction software by numbers
Chosen by
900

+
contractors
across the UK
60,000

+
Access Group customers
across commercial and not-for-profit sectors
5,000

+
staff
employed by The Access Group
Proud to partner with 4,000+ UK leading businesses and not-for-profit organisations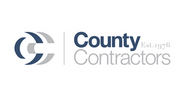 County Contractors
There has been a transformation in the way financial data is being managed end to end, greater empowerment within project teams, an improvement in accuracy and timeliness of data, and opening up the possibilities of new technologies in the future. Ian Cook, Country Contractors
View case study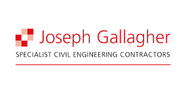 Joseph Gallagher
It can take 3 months to receive money for a project we completed 3 months ago. Easybuild has allowed us to line-up next to our Profit & Loss performance and the debt that was outstanding against each of those projects. What's really good to see is how much money you're owed on a project in real time. Matt Russell, Financial Director
View case study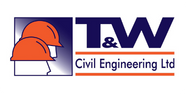 T&W Civil Engineering
I'd been nervous about data migration, but within a day, it was complete – over three companies! EasyBuild's Development Team is very accommodating and supportive. We now have so much more information to make informed decisions, as a business. Adam Burchnall, Finance Director at T & W Civil Engineering Ltd
View case study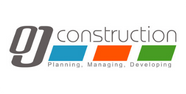 OJ Construction
EasyBuild sent out a very competent consultant for a week to prepare, but there wasn't as much preparing as we thought because the process was so simple! He was very knowledgeable both in terms of programming the software, as well as accounting, which was a big help. If something is urgent, whether it be a weekend or public holiday, they will make sure it's sorted. Andre Oosthuizen, Director of OJ Construction
View case study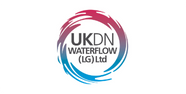 UKDN Waterflow
Whilst still in the early period of embedment within UKDN Waterflow (LG) Ltd, the benefits of the Conquest Estimating system are clearly evident both in terms of ease of tender compilation, tender accuracy and substantial reduction in resource hours per bid. Mark Croxford, UKDN Water Ltd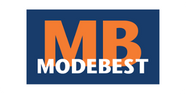 MB Modebest
Conquest Estimating software has enabled us to relate the costs back to the original quote with the other platforms available with the Access Group to allow us to track how projects are performing in a real-time basis. Sean Kelly, Commercial Director
Construction software solutions
Find out how our construction software can benefit your business
Browse our construction industry software resources
Stay one step ahead with industry insights, best practice guidance and expert opinions.