The advantages and disadvantages of online booking systems
Your customers are increasingly starting their journey online when it comes to finding a place to eat or drink. Our Tech Report series revealed that diners are looking up everything about your venue ahead of time, checking out reviews, pictures and your menu before they even head out of their front door. And a whopping 54% of those surveyed said they would be deterred from visiting a venue if they couldn't book online in advance.  
But plenty of businesses still prefer to count on foot traffic to fill their venues. So, if you're here, I bet you're wondering whether you should be offering bookings at your venue or not.  
Well, luckily for you, we're breaking down the advantages and disadvantages of having an online reservation system in place. Here at Access Hospitality, we have years of experience in guiding hospitality business owners through the process so they can feel confident in making the right decision.  
view restaurant booking software
book a demo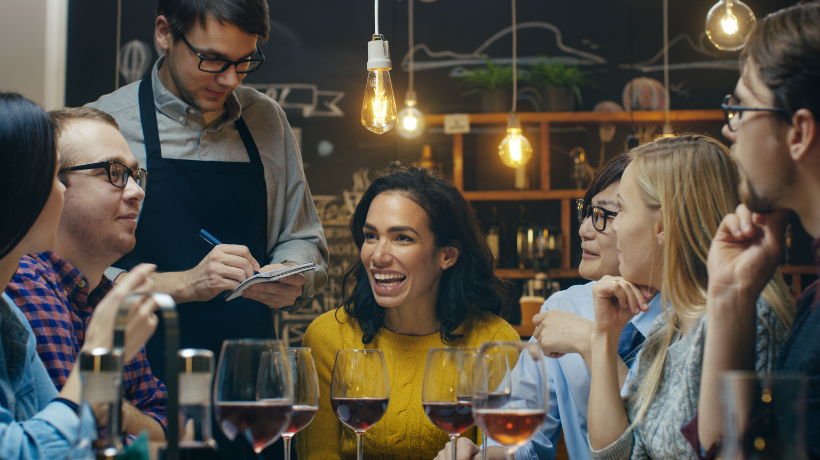 In this article, we'll use our experience to outline the advantages and disadvantages of online reservation systems and explore whether it's right for your business. 
How do hospitality companies use online booking systems?
What are the advantages of an online reservation system?
The main benefit of an online booking system is that your customers are able to manage their booking themselves online at a time that suits them. This means that you can still take bookings for your venue even when it's closed.
In addition, the benefits of an online booking system include; providing a better guest experience, freeing up your staff's time, maximising your venue space and being able to manage bookings from multiple channels in one place.
In addition, think about the following advantages they can:    
1. Relieve pressure on your phone lines and other booking channels
If your venue only receives bookings over the phone or waits until a customer visits your site to book a table in person, you can expect your phone lines to be busy and queues to form. 
Most people are not prepared to wait for long periods of time, whether that be on the phone or in a physical queue, in order to secure a reservation. Plus, customers with other queries will be frustrated if they can't get through to your team because the line is occupied with those making reservations.  
An online booking system allows your customers to make their reservation quickly and easily from anywhere they have internet access, relieving pressure on your phone lines and leading to less frustration from potential diners.  
2. Gives restaurant staff the freedom to do their job
Manual handling of bookings requires manpower. This means your staff are required to always be on hand to answer the phone for bookings whilst seating walk-ins.  
With staffing continuing to be a challenge for the industry, you may find it hard and uneconomical to employ a dedicated reservations manager. This will then put pressure on the front-of-house staff, who will be required to incorporate reservation management into their roles.   
One of the biggest advantages of using an online booking system is that it relieves staff pressure, allowing them to continue front of house duties without the need to focus on bookings on top of that.  
3. Aid planning and maximises space
An online booking system usually gives you access to more information than the time of booking and number of covers. This helps with optimal preparation prior to each service, allowing you to maximise the use of available space. Some systems can collect pre-visit information like pre-orders and allergen information, enabling your chefs to plan their purchasing orders.  
If your chosen software includes table management functionality, you can review a visual floor plan so you can see where to place bookings and understand which tables can be turned quicker than others.  
Software can also help break down the different types of bookings, allowing you to make a more informed decision about where to seat each party, improving the experience for all. For example, you know to seat a large (and potentially loud) birthday booking away from smaller tables, who are more likely wanting a quieter experience.   
4. Help reduce no-shows
No-shows are a continual problem for restaurants costing the sector as much as £18 billion a year. While an online reservation system won't stop them completely, it can help reduce them substantially.    
Because the system captures contact details from the customer at the time of booking, it can also send them automated reminders by email and/or text prompting them to turn up.  
Online reservation systems can also include the functionality to collect deposits at the point of booking which can help ensure your customers show up. 
What are the disadvantages of an online reservation system?
The main disadvantage to using an online reservation system is that it is dependent on reliable internet connectivity to check bookings, which can be an issue if your venue has internet problems.
In addition, some disadvantages to consider include the fees, the impact on foot traffic and the ability to be reactive and flexible on the day.
1. There's typically an upfront or monthly fee
Investing in software means paying out before you see the benefits. Some providers charge a monthly fee, so there is no upfront cost, but you will need to find the funds to pay the flat monthly rate.
If you already have a paper diary or Excel system set up and it's working efficiently for your business, the added expense of an online restaurant system fee each month might not be worthwhile.
2. Reduced queues and sense of 'buzz' at the entrance to the restaurant
Online reservations may help manage your bookings better and mean that long queues of walk-ins are no-longer seen, but is this what you really want?
Perhaps the buzz created by no-bookings makes your restaurant more appealing to your customers. Maybe they enjoy being spontaneous and don't mind waiting in line for a coveted table instead of having to plan ahead.
Sometimes queues can be a good thing for a business because they show that your food and service are in-demand. If you take all bookings online you lose the queues and that level of intrigue.
3. They make it harder to be flexible
As online booking system encourages forward bookings, and you could inadvertently miss out on unforeseen opportunities to boost your profits.
Say a supplier has a certain ingredient, like steak, on offer. A dedicated steak night could be a great way to fill your restaurant with loyal customers on your database, but if you already have tables booked out it will be impossible to run the promotion.
It's not impossible to capitalise on opportunities like these, but it is certainly harder.
Find out how software can help you manage your bookings and streamline operations
Is an online booking system worth it?
An online booking system offers many benefits to your business, including the ability to track booking data over time to identify the most and least popular days and times for your venue which can help inform your menu, staff schedule and promotional offers. So, for many businesses, it is well worth investing in an online booking system.
Before making a final decision about whether to adopt an online booking system, it could be helpful to look at each point outlined above and assess the impact each one would have on your particular business.
While there are clear benefits for many restaurants, an online booking system may not be the right option for everyone. For example, if you run a large site which thrives on walk-in trade, you may not see the benefits. Additionally, smaller hospitality businesses might not receive enough bookings to justify the monthly fee.
In many cases, an online booking system is a great tool and will improve the efficiency of the reservations process. It can provide support to staff because it removes the pressure of them handling booking enquiries; help make the business run more smoothly and maximise opportunities to boost trade.
Ready to take the next step?
In this article, we've looked at the advantages and disadvantages of implementing an online booking system in your venue. Ultimately, no two businesses are the same, and that's why we advocate matching operators with the right software for them.
There are plenty of positives to offering online bookings. Not only does it free up the availability of front-of-house staff, but it also improves space optimisation, helps relieve pressure from phone bookings and prevents long queues. Of course, we also have to consider the possibility of this system not aligning with your current set-up. Therefore, it may beneficial for you to seek a different method.
Access Collins booking and reservation software is a great fit for businesses who are looking for a more efficient way to manage their bookings. We often help customers implement more efficient software after trying another system that hasn't worked out, so if you're looking to try a new solution – make sure you talk to us about your needs.
Book a discovery call
Get in touch to find out how we can help you manage your bookings and streamline operations.
You might be interested in:  
How much does an online reservation system cost for restaurants in 2022?
We will look at what a restaurant reservation system does, the benefits it will bring, what it's likely to cost you and what systems at different price points are likely to deliver for your business.
How to choose between different types of booking systems for your restaurant
You'll learn about the main types of booking systems on the market, the pros and cons for each and we will explore all the options to help you choose the right one (or ones) for your business.