Legal Practice Management
Legal Practice Management software
Our practice management software helps you to remain compliant, increase profitability and gain real business insight across your law firm.
Give yourself the freedom to improve the performance of your legal practice and generate value with one seamless software solution.
Access(UK) Ltd is an approved partner of The Law Society offering case and practice management software to Solicitors.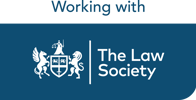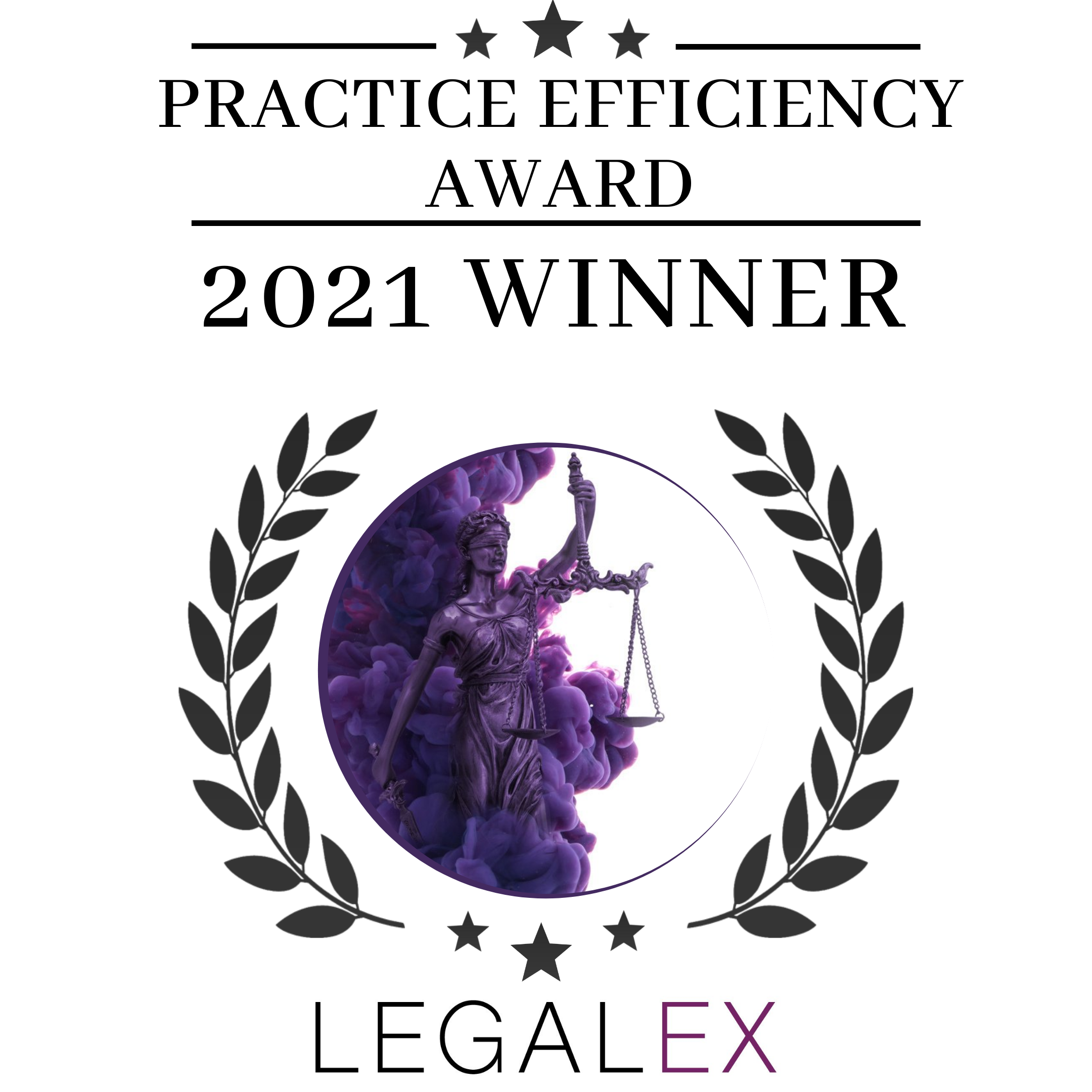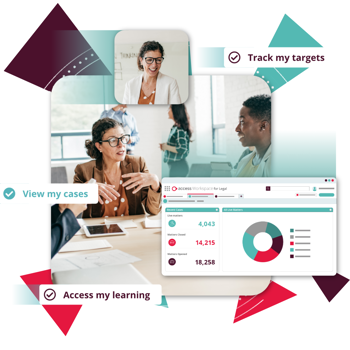 Key features of our legal practice management software
Efficient task management
Single Data Entry Reduce inefficiency by inputting essential data just once. Clients with inferior debt profiles may be included into the case management system thanks to automated files.
Automated Matter Management Track complicated, vital concerns, interact with customers, and manage day-to-day tasks using a user-friendly solution.
Document & Data Management Drive performance by producing and accessing all vital and relevant papers in a central digital library that is completely indexed and searchable
Task Management Maintain key attention of the customers with comprehensive communication and calendar management, monitoring of case activity, and automatic reminders
Data Security Manage all aspects of your practice in a secured, dependable setting with cutting-edge security. Ensure commercial performance by constructing budgets, keeping track of time spent, and completing the correct invoices and court papers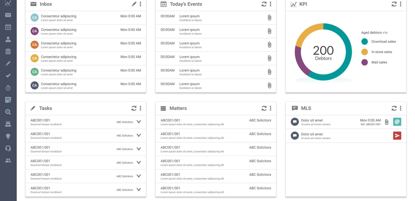 Cost budgeting and drafting
Ensure commercial performance by building budgets, recording against time spent and preparing the right bills and appropriate court forms.

Commercial control Using integrated reporting and analytic tools, measure, comprehend, and manage every part of your cost and revenue streams
Cost management - Ensure commercial performance by developing budgets, keeping track of time spent, and completing the correct invoices and court papers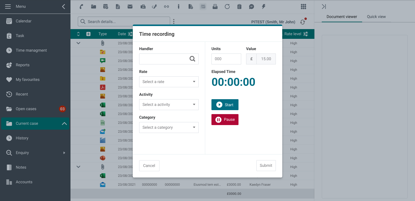 Customisable workflows
Claims Workflow management Manage claims more effectively by lowering the processing time for each case and delivering a superior client experience, all while saving costs
Client & Workflow management Manage GDPR processes, integrated inside Access Legal Case Management software, may be pre-defined or customised to guarantee cost savings and continuing compliance, including document exchange and case status updates through an online portal
All areas of law – Our workflows support all legal fields, including conveyancing, personal injury, debt collection, durable power of attorney, probate, employment, family, mediation, criminal, expenses drafting, and financial claims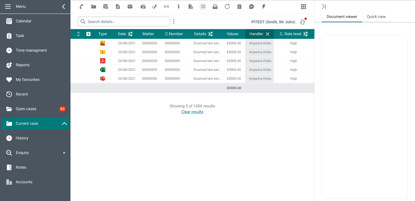 Client onboarding and management
Client experience is enhanced with a suite of onboarding tools including Biometric checks, AML & PEPS searches.
Instant online quotes – With our Opportunities module, you can present potential customers with an online quotation form, enabling them to obtain an immediate online estimate for your services. This information is then recorded in real-time in your case management system, enabling you to monitor conversions and easily convert prospects into customers
Claims management - Enhance your case management of claims by decreasing the time spent processing each case, enhancing the quality of service your customers get, and boosting your bottom line
CRM and business development – Drive practice effectiveness by combining social media, direct contact, and referrals into client-focused interaction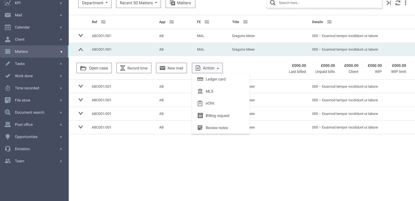 Seamless integration with 100+ practice management tools.
Integrated automation tools Boost productivity by integrating a full collection of technologies, such as digital dictation and transcription, text and communication, and online quotations, into the matter process
Digital dictation – Record and revise talks in real time using our transcription tool, which is immediately linked to your case file
Text messaging - Fully integrated SMS text messaging is accessible at the push of a button and can be included into complete, pre-configured processes to automatically send messages at critical file stages
3rd Party Integrations  Create a comprehensive suite of solutions by integrating with more than one hundred industry-leading third-party solution providers in the legal and commercial sectors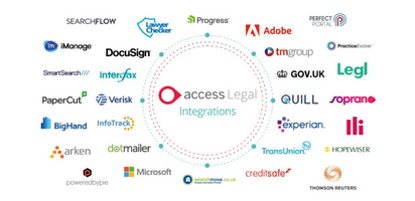 Reporting and BI
Power the understanding of your firm's performance through a comprehensive suite of tools.
The BI dashboards allow forensic and holistic reporting of any data within the Practice Management software
Schedule reports at set times and days, and distribute automatically to pre-defined contact lists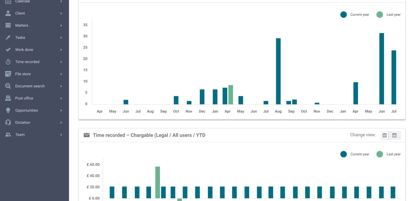 Conveyancing and ID checks
Legal Bricks, part of Access Legal, offers law firms a customised and integrated property search platform that simplifies and speeds up the conveyancing process.
Legal Bricks products include:
Conveyancing searches
AML checks
Biometric ID checks
Client portals
Quotation and referral system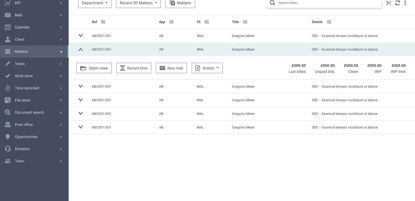 Legal accounting
Control your finances and remain compliant with the SRA's Solicitors Accounts Rules (SAR) and Making Tax Digital
Comprehensive reporting dashboards and a complete audit trail of transactions
Client ledger for simple management of VAT & disbursements
Draft bills at the click of a button
Seamless tracking of money owed and automatic payment deadline alerts
Automate invoice creation, supplier payments,

automated credit control,

bank reconciliation & land registry import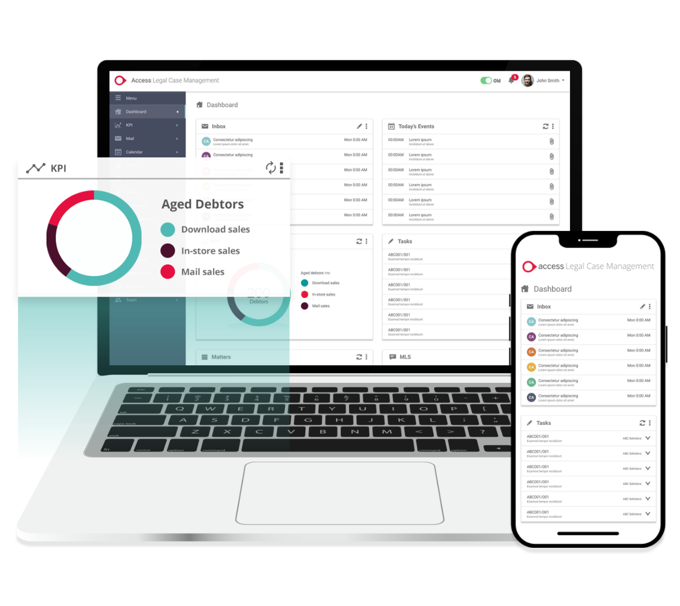 Confident about compliance
Remain compliant with Solicitors Accounts Rules
Achieve the SRA Handbooks 'good consumer outcomes' objective with faster processes and improved service
Easily complete online anti-money laundering (AML) checks
Monitor the risk to your firm in customisable compliance dashboards for increased visibility and insight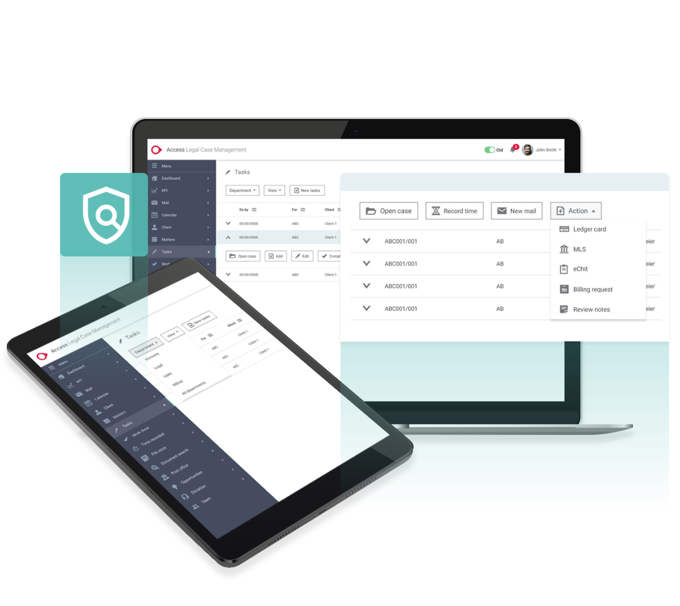 Book a consultation with one of our experts
Data driven business insights
Make informed decisions with real-time practice performance data, giving you the freedom to drive your practice forward with confidence.
Pre-built or bespoke practice management reporting
Easily manage individual productivity with data on areas such as workload, fee earner targets, cost per case and KPI monitoring
Full risk management at every step
Access Workspace collates all your practices software in one efficient platform
"One of the biggest benefits of Access Legal is the data and insights it has provided to our firm. This information is used to help make key decisions throughout the business – whether it's determining the outcome of a day-to-day or a boardroom level issue." - John Anderson, Digital Marketing Consultant at Stowe Family Law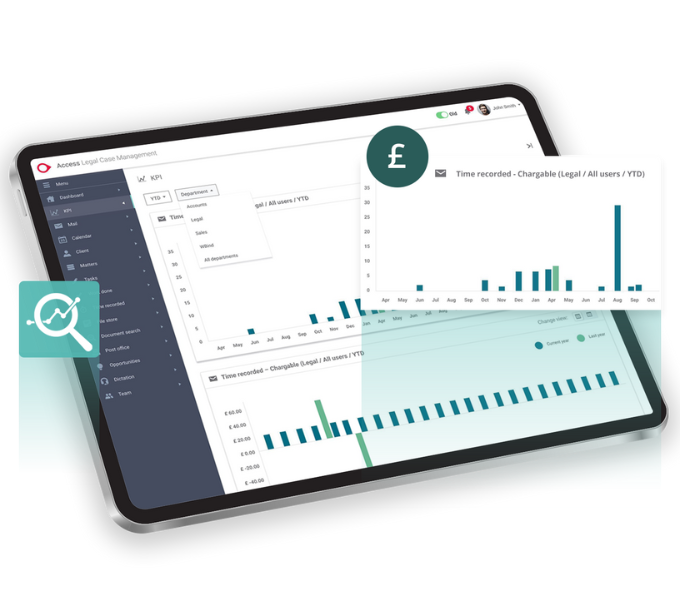 Agile, secure & futureproof
Make sure your practice management software solution matches your ambitions and enables your firm to thrive.
Benefit from the latest features and support across both our cloud-based (hosted) or on-premise solutions
Log-in securely anytime, anywhere and on any device
Over 100 best in class integrations tools
ISO27001 accredited
Delivered through Access Workspace for Legal
Make this the last migration you'll ever need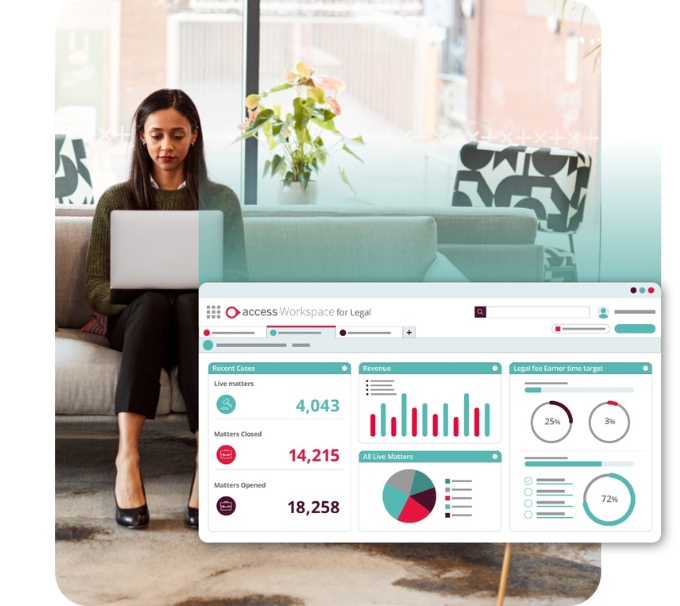 Supporting all areas of law with powerful workflows and best in class integrations
LPM Tiger Team with Access Legal: Creating a more client-centric law firm
Watch the LPM Tiger Team and our own Lauren Colbeck, Head of Product at Access Group, deep dive and focus on answering one question: How can firms rebuild themselves around their clients?
Discover the full Access Legal suite and how your law firm could benefit
What
our customers

say

I trialed six different case management systems while exploring the market and Access Legal Case Management looked the easiest to use and simple to understand whereas others seemed to have several steps involved when working through functions and workflows. The legal accounts side of Access Legal Case Management, in particular, is so easy to use compared to others and it streamlined a lot of our processes.

Essentially, I see the Access Legal practice management solution as the 'Apple' of the legal software sector. It provides a huge return on investment, and a quality, centralised case management system, providing us with the confidence to know it's entirely futureproof. Additionally, third parties have Access Legal at the top of their lists for integrations, so I can feel safe in the knowledge that our legal software is always going to be top of the range.

Legal services provision is constantly changing – clients and customers are demanding more information, at a quicker rate – and we required a mobile application that puts clients at the centre of our service, but with the flexibility to suit the ever-changing conveyancing sector. After a lot of market research, we discovered the Access Legal Client Portal was a better option for our firm and our clients

Our new Practice Management Software, provided by Access Legal, helps up meet our targets and fuels our growth in various ways. It simplified the management of our IT solutions and took away the difficulty of liaising with different suppliers. Offloading everything to Access Legal in the cloud was probably one of our best business decisions.

We felt that Access Legal provided a solution in their software that would evolve as the firm did. Stowe Family Law is the UK's largest specialist family law firm – our goal was to become even bigger and we knew Access Legal would scale along with our own growth.

As an established practice, we continually develop our services to meet our clients' needs. Access Legal is a fantastic solution for us – its flexibility allows us to give a better, cost-effective service by enabling us to rapidly adapt to client and sector requirements.

Hansells Solicitors and Financial Advisors

The decision to standardise on Access Legal as our overall claims management platform has been truly validated. The system is by some distance the leader in the claims sector.


Connect every aspect of your firm
Legal Case and Practice Management System
Blog Spotlight: Practice Management
Read our latest blogs on all things case and matter management covering key industry questions and trends.
Legal practice management software FAQs
What is practice management software?

Legal practice management software is designed to manage all the business and administrative functions needed to run a law firm. The right practice management software will deal with a law firm's case and clients' files, billing and bookkeeping, fee earner schedules and appointments.

Practice management software will also facilitate any compliance requirements such as document retention, court's electronic filing and Solicitors' Accounts Rules as defined by the Solicitors Regulation Authority.

Read more about what is legal practice management software.
What are the benefits of practice management software?

There are a number of benefits to be had when adopting Legal practice management software.

Contact Management - One version of the truth when it comes to information on your clients.
Case Management - helping you stay organised and securely access the information when and where you need it.
Billing & Accounting - Control your finances and remain compliant with the SRA and make tax digital. Bill your clients in a way that's easy for them and effective for your firm.
Task management - Manage your own and the team's workload and productivity
Legal document management - allowing you to store, edit and organize your firm's legal documents securely.
What is cloud-based practice management?

Unlike traditional premise-based software where data is stored locally in your office, a cloud-based legal practice management system lets you and your clients access to case management information from any internet-connected device.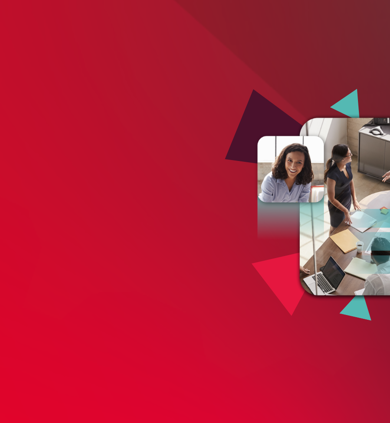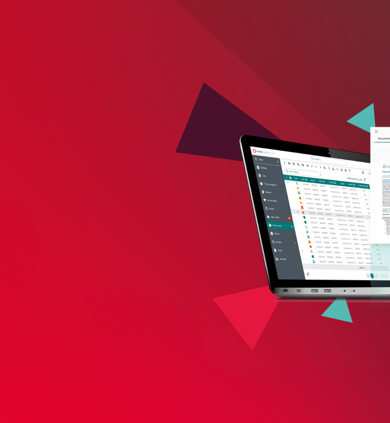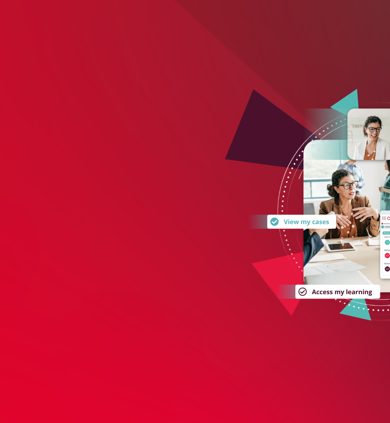 Download the Access Legal brochure
Discover legal case management without limits and why we are trusted by over 3,800 firms to unlock unrivaled efficiency gains. Bring your legal case management up to spec and join the growing list of legal firms switching to working without limits. Take on any task, any time, any place with the full weight of your practice thanks to one seamless, secure, cloud-based platform.
Download our brochure
Get a personalised demo of the Access Legal suite
During your complimentary full system overview we will answer any questions you might have and show you how your legal teams can use case and practice management for opening and managing cases and matters quickly. We'll also show you how reporting within Access Legal for Workspace can drive true business intelligence insights on any element of your data including streamlining accounting and finance tasks with our fully integrated legal accounting system.
Book a demo with us today
Speak to one of our experts
Over 3,800 legal organisations trust Access to create great client outcomes, enhance their productivity and ensure continuity of their business. Book a call with one of our legal specialists to discuss your needs or any questions or queries about any of our Legal product solutions.
Contact us today