Automate expense management
Manage all business expenses through the mobile app or browser, and with customisable spend controls and enforcement features, claims are always in line with company policy. Approvers can review and authorise expenses on-the-go for quick reimbursement, with inbuilt alerts, automated processes and integration with your existing finance and management systems.
book demo
read brochure
Browse Access Expense features:
Review and approve claims quickly, reimburse sooner
Approvers are immediately notified of claims awaiting review and queries can be resolved in real-time via the chat function. Integration with existing finance systems means expenses are reimbursed sooner.
Automated alerts via Outlook and the app let approvers and finance teams know when there are expenses for review, or another action is required
Approvers and users can request more information and comment on claims using instant chat. Conversations are kept within the claim for a better audit trail
Multi-level approval can take place within the software for extra security and quicker processing
Individual claims can be approved within a submission with multiple lines while others are held back pending further information
Data is shared with your accounting system, accounts are automatically updated, and payment is made
Complete and submit compliant expense claims easily
Intuitive features make it easy for employees to submit all expenses via the app or browser, make receipt management a breeze and help enforce company policy rules. Project costs are kept up to date with straightforward spend allocation and claims can be submitted in batches to save time.
Capture receipts via the mobile app. Images are automatically synced in secure storage, so you can submit them straight away or later, even without the original receipt
Defined data fields relevant to each expense type prompt the user for all necessary information
Spend can be associated with imported or manually added projects
Claims can be submitted individually or in batches, and recurrent expenses can be logged on one claim by selecting multiple calendar dates
Set expense controls in line with company policy
Employees can easily understand what they can and can't claim for with a pre-defined list of expense types and spend limits. While approvers can authorise claims knowing they're compliant with company policy, and with more control overspending.
Spending limits within each expense category can be set for individual employees
Set hard or soft spend policies with override function as required
Out-of-policy claims are instantly flagged to the claimant, and non-compliant submissions are disallowed
Automate rules to enforce expense policy
Approvers only receive compliant claims and anomalies are flagged to put them in control of costs and avoid overspend.
Set controls to ensure complete and accurate data is provided and receipts are attached to claims before submission
Automated alerts flag overspends against soft policies to approvers
Non-compliant claim submissions are instantly disallowed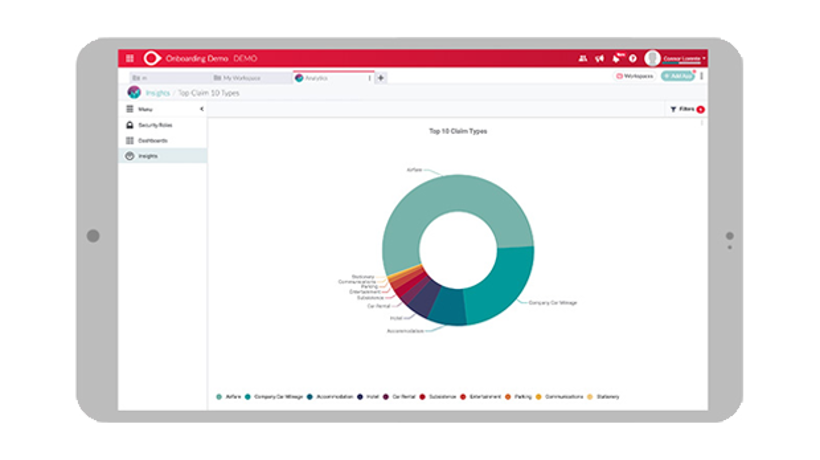 Process multi-currency expenses accurately and easily
Multi-currency expense claims can be processed as efficiently as those incurred in the UK, and using accurate, up to the minute exchange rates.
Claims and digital receipts can be submitted while employees are out of the country, and in every currency
Link to an online exchange rate website for live updates or manually enter exchange rates
Past foreign exchange rates calculated to ensure accurate payment, regardless of when a claim is submitted
Beautifully simple staff expenses management software
read brochure
Allocate credit card expenses quickly and securely
Credit card statements are uploaded in a few clicks and expenses are automatically allocated to the cardholder, eliminating manual input and speeding up processing.
Integration with major banks means statements can be uploaded straight into the software
Expense information for multiple cardholders is updated fast
Full purchase information is added to the cardholder's account ready for review
Individual expenses are automatically itemised for line by line approval
Multi-currency credit card expenses are processed as efficiently as those incurred in the UK and using accurate, up-to-the-minute exchange rates
Submit expenses and approve claims on-the-go via the mobile app
Employees can submit their expense claims on-the-go with an easy-to-use mobile app and approvers can review and authorise quickly, helping to avoid the bottleneck of processing deadlines.
All claims can be made via the app with data fields and functionality that mirror the browser version
Scan, store and attach receipts via the app, and sync to the browser version
Automated alerts via the app let approvers and finance teams know when there are expenses for review, or another action is required
Claims can be reviewed and approved all from within the mobile app
View expense claims in real-time and quickly see when they've been approved
learn more
Save time, reduce costs, improve employee experience, and stay in control of your expenses 
book demo
What our customers say
"Everything comes through pre-coded, so there's very little for me to do."
Laura Cox, Finance Administrator at Enhanced
read case study
Explore more products

Financials

Analytics

TeamSeer