How much does accounting software cost?
This article explains the factors that affect the price of accounting software and unexpected costs to look out for.
It also looks at how to determine the ROI of accounting software and how to lower the price before you buy.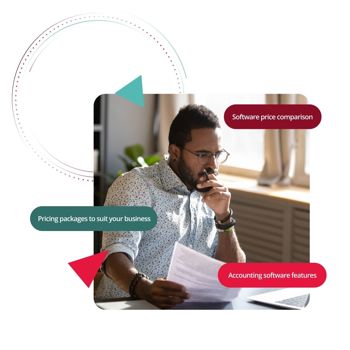 How much does accounting software cost?
The cost of accounting software is primarily influenced by the features it includes and the number of users that are given access to it. 
The price of a business's accounting software package will increase as its needs grow and change, but the value that the software is able to provide also goes up as it enables financial teams to stay on top of increasingly complex processes.
While the cost of accounting software needs to make sense for your business, the cheapest option is unlikely to provide you with the most value in the long run. The best way to get the most for your money is to invest in future-proof features that your business needs to continue growing.
View our pricing packages or book a demo of our finance software.
Accounting software cost comparison
It is difficult to compare the prices of accounting software directly due to differences in features between solutions and a lack of information from some vendors. In 2020, SoftwarePath estimated that the average company spent $187 (£159) a month on accounting software, which is consistent with many mid-range price points in the UK.
Access Financials pricing is fully transparent and starts from £97 per user per month with a package suitable for scaling businesses and those that have outgrown their current accounting systems, or £142 per user per month for a more advanced package (we'll discuss the difference in features later in this article). These price points mean that two users on our package for scaling businesses, or one user on the advanced package, would lead to you spending close to the 2020 average price.
While average prices can be useful in judging the reasonableness of different price points, they ignore the unique needs of different businesses. The true picture of accounting software pricing is that small businesses could spend between £10 and £20 a month on a basic software plan, while large businesses with complex processes could spend hundreds of pounds a month for a full suite of features and multiple user seats.
Plans for growing businesses, like Access Financials' growing business plan, typically start from around £100 per month or a little less, but could scale to £200 or more with multiple users and more functionality. 
Advanced plans, like Access Financials for complex businesses start from around £150 per user per month, but could range as high as £300 to £400 depending on specific business requirements.
Finally, some software packages, like our project accounting software, do not have any fixed price because they are fully tailored to the requirements of the business and the price will be determined by the features that you require. The only way to get a price for software like this is to speak to the provider directly. 
Factors that affect the cost of accounting software
Alongside user seats, an accounting solution's features make the biggest difference to its cost. In the section below, you can see some examples of different functions that increase the price of Access Financials' plans. Many other software providers also increase their prices when features like these are included.
Sales and purchase order software
A sales and purchase order feature simplifies the whole procure-to-pay process. It is a more advanced feature because it can allow non-finance staff to engage with the system and automates some aspects, like data capture, purchase invoice processing and purchase approvals.
Month-end management & audit controls
As your business grows, it will become increasingly helpful for your accounting software to streamline the month-end process and ensure that you remain compliant with both financial regulations and internal processes. As your accounts become more complex, software that helps with these processes will save you increasing amounts of time and money.
Intercompany transactions and consolidation
The ability to carry out transactions between multiple companies and consolidate records between them is a key feature of more advanced packages. Many larger businesses will need this feature in order to maintain consistency across multiple companies.
API connectivity
APIs can help you do more with your financial systems by connecting them to other tools. Connectors are less common in cheaper accounting solutions, but can be essential if you need to integrate your software with other tools and processes.
Project time and expenses
One feature of our project accounting software is the ability to track time and expenses to particular projects. If your business operates on a project basis, you will need to ensure that your accounting software can work in the same way.
Reporting
Financial reporting software makes it quicker to analyse your financial health and business performance. Good reporting functionality can include automated packs for board reports, real time analytics and easily accessible daily reports.
Other features to look out for
While not exhaustive, the list below contains some other features that may increase the price of your software:
Auditing and corrections
Business health and credit risk
Credit control
Fixed assets
Fund accounting
Partial VAT
Project resource scheduling
Workflow and approvals
Access Group accounting software pricing plans


We have touched on the differences between Access Financials plans at several points already, but wanted to break them down further in this section so that you can see how the cost of accounting software can be affected by different factors. 
Our accounting software pricing page also contains a full comparison of the different features.
Scaling businesses (from £97 per user per month)
Our cheapest plan is aimed at growing businesses. Other providers have cheaper options for basic business packages, but this plan is for organisations that have outgrown those packages and are looking for accounting software that can keep up with their growth. The core package remains the same, but it's easy to add new modules to meet your business's needs as you grow.
Access Financials is a cloud-based system designed to handle month-end processes, the business's tax requirements and automatic banking reconciliation. On top of the basics, it also provides features like a document management system, financial analytics and digital learning resources. These additional features transform it from a basic accounting tool to a solution that can handle a wide range of financial requirements in one cloud-based environment.
Advanced accounting businesses (from £142 per user per month)
Many of the features described in the previous section are included in our advanced package, making it a more complete solution for businesses with complex accounting requirements. The package typically starts with a minimum of five users. Key additional features include multi-currency capabilities, intercompany transactions and API connectivity. It also adds features like sales and purchase ordering that help other members of the business to engage with your processes.
As the price increases for more advanced software, you will gain access to more flexibility in the tool's features and the ability to customise it further to make sure that it can meet all of your requirements.
Project-based accounting businesses (POA)
Project-based accounting software is the one package for which we don't specify a price. This is because it's important for businesses with specific accounting requirements to be able to build a package that suits them. 
Project-based accounting can look very different depending on the nature of the business and its projects. This software packaging still includes all of the features of the advanced package as standard, but comes with options for scheduling, project costing, budgeting, time tracking, expenses, invoicing and other features that a project-based business may need. The features included in this package provide everything a business needs to manage projects and resourcing effectively. 
How to determine the ROI of accounting software
Is your accounting software saving you more money each month than it costs? The cost of accounting software can be offset by the time it saves your team, the errors that it helps you avoid and by reducing the need for outsourcing.
According to SoftwarePath, human error accounted for 41% of inaccuracies in business accounting, and companies using software were much less likely to see these errors than those using manual, spreadsheet-based processes. Making an error in the wrong place can be incredibly costly, though it is hard to put a precise number on how much you could save by avoiding those mistakes.
Other resource savings can be significant. Software that handles all of your processes correctly should always be the quickest way to carry out your accounting processes, and the hours it saves you translate into cost savings, allowing you to employ a smaller team or use the team's time in other areas. 
Accounting software may also remove or reduce the need for outsourcing if it enables your team the time and capabilities to do more of the work themselves.
How to lower the cost of accounting software
Although the cheapest option is not always the best, it's a good idea to ensure that you're not overpaying.
The first step in getting the right price is making sure that your software package contains the key features and user seats that you need. If it doesn't do so as standard, speak to the provider to get a new price. When you have settled on your requirements, ensure that the scope of the new software's installation contains everything you expect it to.
Another good way to lower the cost is to make sure that you get the software you expected. Accounting software demos are a great way to see the solution in action before you commit to paying for it. This process should also involve thinking ahead to ensure that the software you buy now remains suitable for years to come.
Finally, speak to the software vendor about how your data will be migrated to the new platform. A migration can be a costly or time-consuming process that needs to be done efficiently to keep the price as low as possible.
What next?
Now that you have an idea of the factors that influence the cost of accounting software, you can take concrete steps to find the solution that fits your business. Start by working out what you need from your software, then look at the prices of plans that offer most of what you're looking for. Remember, you may need to speak to the vendor directly if you need to deviate from the standard feature list of an existing plan. 
Then, when you've found some options, try to arrange a demo so that you can see the software in action before you commit to anything. Our finance software sectors page will also help you find more information about what different features might be appropriate for your business.
For more information on Access Financials, visit our accounting software page, view our pricing plan, or book a demo.
Find out how our accounting software could help your business run more efficiently and effectively.
Want to know more?
Have a read through more accounting software information, guidance and advice.