My School Portal
Are you looking for My School Portal?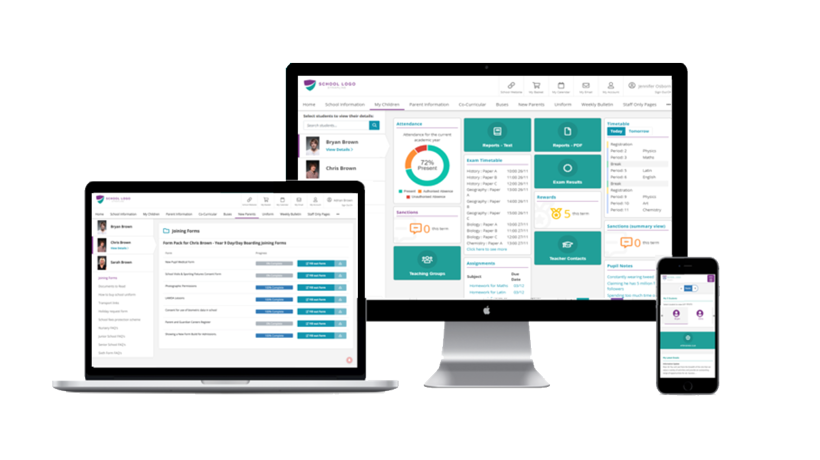 What our customers say
"I was impressed by the one-stop-shop of communication, one area all schools are trying to improve on. I think the biggest challenge we had before implementing My School Portal was a lack of coherence in terms of our communication. MSP provides a way of unifying but also of drawing parents in so that communication wasn't just based on email or on reports once or twice a term, its now an ongoing open communication, that parents can access, whenever they want."
Edward O'Connor, Headmaster at St Edmunds School
"I chose My School Portal as an opportunity to amalgamate all our communications with parents and pull it all together in one centralised place. It's a one-stop-shop with everything they need to know about their child, it's especially good for busy parents as they only need one login to access everything centrally."
Peter Goodyer, Headteacher at Bede's Senior School
"Before we had My School Portal we had a huge amount of fragmentation of information, so our parents were trying to access a number of different routes into payment information, parents evening, absence reporting, a whole host of different communication platforms. The real value for our school it has saved huge amount of time as it's a one-stop-shop for our parents."
Neil Parker, Head at King Edward VI School
"We like the way in which it is easy to operate and understand. Staff can be quickly trained to use it. It is also very easy at the point of delivery and for parents/pupils they can access the information quickly. It suits our parents needs and demands that they require from us as a school. We have been really impressed by the support given to us by My School Portal, we have been quite challenging in our requests, but they always come back with great solutions and support."
Liz Richardson, Headmistress at Berkhamstead School
"As a school that's very committed to a sustainable future, one of the really quantifiable values of My School Portal has been the immediate access to information which has meant we have been able to cut down on the amount of paper we used as a school. I love its adaptability and the fact that it is so simple and straightforward for all of our stakeholders to use."
Alex Hutchingson, Headmistress at James Allen Girls School
"I particularly like that fact that it enables parents to feel very connected to the school, it's very responsive and parents can quickly access information about their children and what's going on in the school. It has enabled our communication with parents in school to be that much stronger and when parents feel connected to the school, they feel the school is really responding to their needs."
Samantha Price, Headmistress at Benenden School
How My School Portal can help your school
My School Portal is the ideal resource to help your school save time and money by streamlining your parents' communications, online school payments, forms, data and more, all into one easy-to-use platform.  
Online forms for all your data collection, permission slips and more.
Targeted messaging for a simple solution to your parent communications. 
Content-rich newsletters to keep parents informed. 
Online booking and payments for school lunches, clubs, trips and more.
Single sign-on to make it easy for everyone to use.
Everything you need all in one place
Increase parent engagement, save on administration time and relax knowing your payments are processed securely, all through one intuitive platform.
Latest news
Advice and articles to help schools achieve more.