PeoplePlanner - Community
Bringing together employee management, client and funder management, planning and rostering, real-time monitoring, reconciliation, finance and payroll in one easy to use system.
Made to save you time, reduce costs and minimise errors, as well as give care workers, clients and management real-time access to the information they need.
Looking for a care home solution? See Access People Planner for Residential care.
Download our PeoplePlanner community brochure to find out more
Find out more about our pricing options
Scheduling and rostering
Easily and quickly reconcile your planned and actual visits:
Assign the right staff to the right client using Google Maps
Manage timesheets and rotas from any device
Drill down into information on a group and individual level
Easily and quickly reconcile your planned and actual visits
People Planner Google Maps efficiently plans routes for your mobile care workers. It is fully integrated so you can ensure accurate travel time calculations, correct staff payment and client invoicing.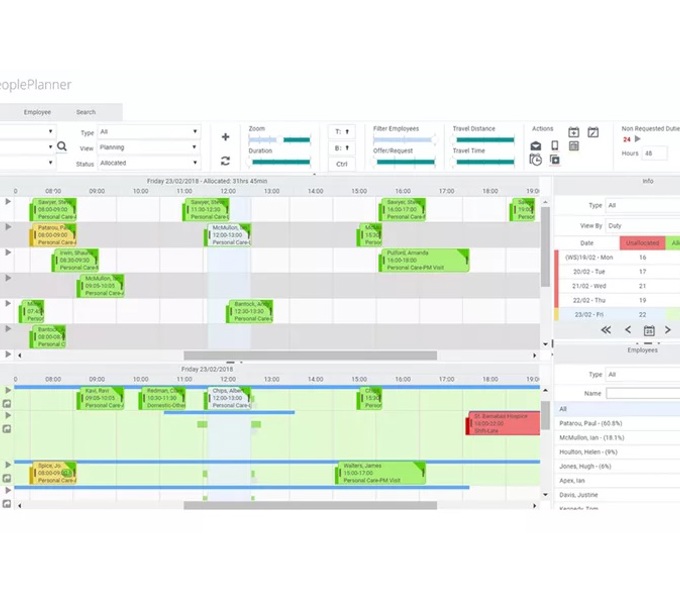 Client and funder management
Painlessly complete set up and service user tasks to aid regulatory compliance:
Set up service funders and service users
Allocate service order to service funder
Upload documents such as care plans to service user file
Complete service user tasks to aid regulatory compliance
Collect your fees simply and offer a great customer experience with Access PaySuite Direct Debit solutions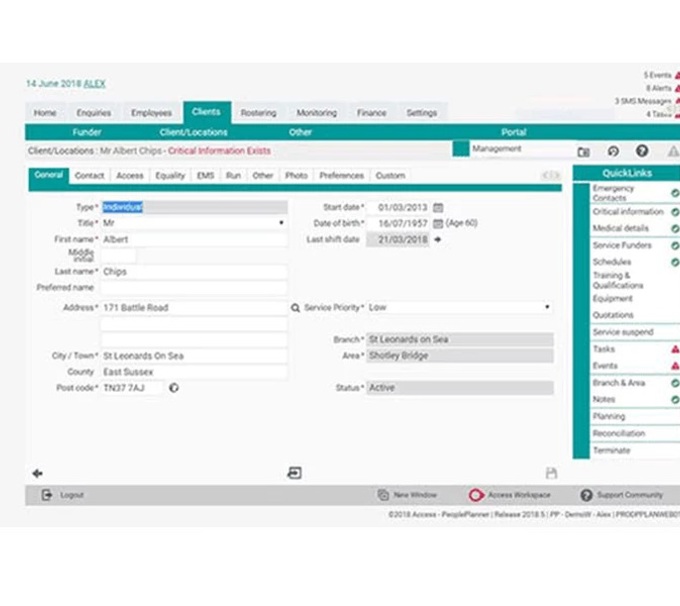 Employee management
View and manage all tasks, training, availability, pay rates and manage absence:
Reports show all employees and the status of the tasks relating to them
Manage training and qualifications
Set employee availability and pay rates
Sickness and holiday management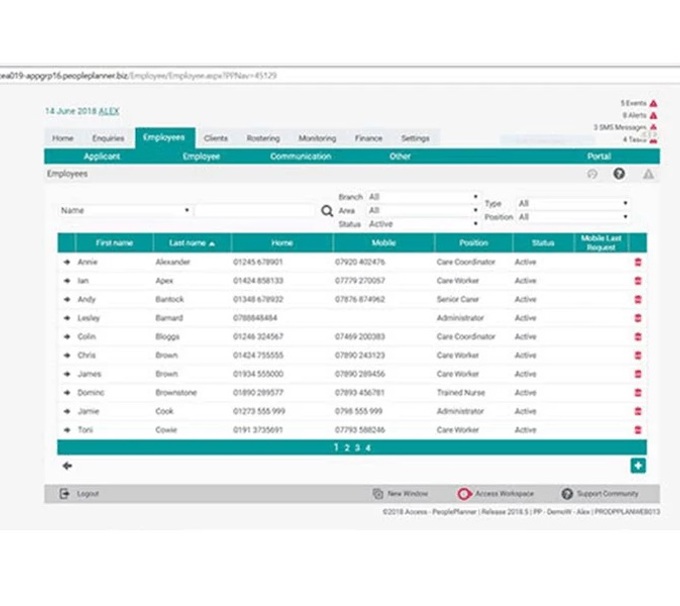 Ready for a personal tour of the product? The team can call you in the next hour or two
Delivered through Access Workspace for Care
Access Workspace for Care provides continuously updated insights enabling real-time decisions and actions across the whole care operation, saving you time every day.

Easy-to-use apps bring together your Access products into one place and provides unparalleled levels of actionable insight. See your entire care management operation in real-time.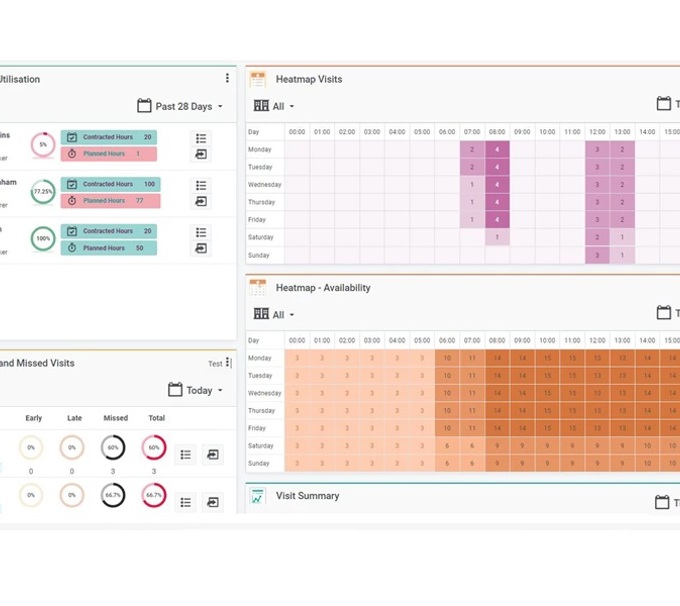 Ryde House
Hear how Access Care management has been 'transformational'
Ryde House provide care and community outreach services. In this short video, they explain how introducing Access People Planner Community alongside the Care Planning app has been 'transformational' for their care organisation.
For more social care case studies and testimonials visit the Care Hub.

See the software so many organisations use to deliver the highest quality care
What is Rostering in Social Care?  

Rostering is the process of scheduling all of your required care visits, shifts or runs and assigning a member of your team to them. It also helps you select qualified team members who have continuity with the person receiving care.  
Why is efficient rostering so important in Social Care?  

Unnecessary travel time and mileage add cost to your care delivery; great rostering helps reduce that. Selecting the most efficient routes minimises lost time in travel and wait time.  
Who will use Access People Planner in your organisation?  

Many roles in a care business can use access People Planner. Care coordinators are the primary users, but it's also for branch and area managers, the finance team, and HR and Recruitment.  
Can I use Access People Planner for supported living and live-in care?  

Yes, absolutely. Access People Planner is adaptable for many different types of organisations, including supported living and live-in care; you can even run a mix of both.  
Can I track Time & Attendance using Access People Planner? 

Access People Planner receives and stores time & attendance information from multiple sources. We recommend Access Care Planning mobile as the best place to record time and attendance for visits, which is passed to Access People Planner to calculate invoices and payroll.  
Can I invoice my customers using Access People Planner?  

Yes. Access People Planner has a highly comprehensive invoicing system and integration with accounting systems.   
Can I pay my staff using Access People Planner?  

Access People Planner can calculate your payroll runs and holiday. Integration with Access Payroll and Access EarlyPay provides a quick process to pay your team.  
Can Access People Planner manage Care Plans?  

We recommend Access Care Planning for the management of care plans, and it integrates with Access People Planner.  
Access Care Suite: Software to deliver Outstanding care
Our software products can be configured to suit each individual organisation and are suitable for small independents through to large multi-service organisations and franchises.
Used correctly and along with adopting the necessary apps, a software for care homes can provide key support in areas of the business most needed. It enables staff to achieve their daily tasks in the most efficient way, whilst maintaining quality and compliance at all times.
The Access suite covers residential and domiciliary software needs and are widely used throughout the care sector – explore our products today and start your digital journey.