Skip hire management software
Manage your entire skips and RoRos operation with Access Weighsoft skip hire management software.
From quotation to sales order, job allocation, to container management, waste breakdowns to invoicing and reporting - it's all brought together on a single platform.
read brochure
book demo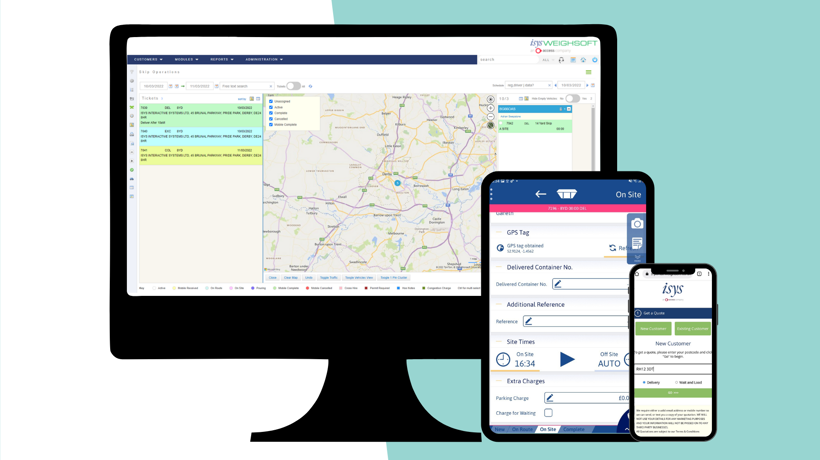 Why switch to our skip hire management software?
We understand there is more to your business than delivering skips - using our skip hire management software you can connect with your customers, drivers, Weighbridge Module, and more.
Digitising your waste management business delivers the right information to the right people, in just a few clicks. 
Key skip hire software features

Cash portal
Your customers can get a quotation and order a skip from wherever they are. Orders come through with all the job details needed to process.

Customer Portal
Give your customers visibility on orders, job status, ticket history and invoices. Set up permissions for them to create job requests, download data and generate site waste reports.

Weighbridge Module and Banksman App
Process all incoming and outgoing loads in a few clicks, with all movements captured on the weighbridge dashboard and linked to stock control. Analyse incoming waste, record waste movements and attach photos.

Driver App and Vehicle Tracking
Keep track of your drivers' delivery status, locations, and behaviours. Our mobile driver app takes your drivers through every stage of their jobs, from vehicle checks to waste breakdown reporting.

Reconomy API
Our software seamlessly integrates with Reconomy, so you can accept orders and send them back with completed job details.
Overall the software support team provide a prompt and thorough service. Isys have worked with us to develop the system to provide a package that meets our business needs.
The Operations side of the software has been a huge advantage to our work scheduling. It enables us to plan work in advance and had maximised our work efficiency.
ISYS technologies have given us real-time visibility of all our operations and our back office efficiency has improved enormously. ISYS have come in and migrated the previous two software solutions into a standard solution which gives us a fantastic platform to move forward.
Skip hire software benefits
Easy-to-use: The 'Drag and Drop' skip hire operations screen allows simple job allocation. Set up multiple operation screen views to suit your style of working.
Greater visibility: Customisable dashboards display real-time data and KPIs, for example see the exact locations of drivers and containers via GPS tracking weights and more.
Understanding business performance in detail: Multiple reporting options are available, such as waste reports, driver and vehicle performance, average weights and more.
Reduce your admin and human error: Easily manage permits and calculate complex charges, such as weight surcharges, transport charges, and rentals.
Improve communication internally: Customer sites can be set-up with associated risks to warn drivers of 'restricted access', 'school nearby' or any other important system notes.
Drive profitability: For example, run margin reports on subcontracted work based on stored supplier prices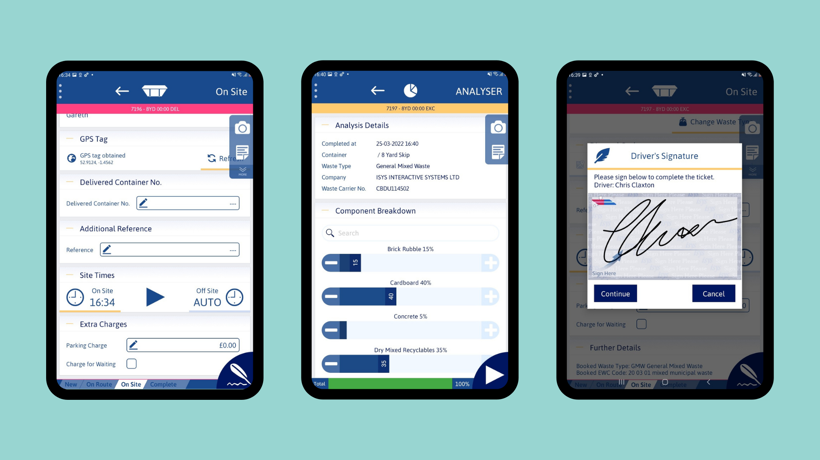 Need more information? Get in touch now
contact us
Can my customers access their account info via the skip hire software?
Your customers have full visibility and control over their accounts, so they can download their own copies of invoices and reports and create orders online. This frees the phones up for new business and reduces excessive admin time.
What sort of reporting tool comes with the skip hire management software?
You will be supported with our powerful reporting and analytics feature. Benefit from real-time data on your operations and finance dashboards, standard reports, and simply pull out the specific data you need with the report generation tool. Reports can be scheduled to send out at your chosen frequency, so you never forget a deadline.
Can the skip hire management software integrate with our existing finance tools?
All systems and data are synched with one software covering all operations, we offer many integrations including most finance packages, Reconomy, weighbridges and more.
What is the training and implementation process?
Your dedicated project manager will guide you step by step through the onboarding process, from data migration to training, ensuring you feel confident before going live and limiting disruption to your business.
Will I receive any support after going live with your skip hire software?
Yes, our experienced support team will help you with any problems or queries you may have once you are up and running to ensure you are getting the most out of the software.
Explore more waste management software
Request pricing details for our skip hire management software
request pricing
Explore more of our Access solutions