What is Lancaster District CVS?
Lancaster District Community & Voluntary Solutions (CVS) is the umbrella organisation for voluntary, community, faith, and social enterprise (VCFSE) organisations in the Lancaster district.
Their members, made up of the organisations they support, are active in communities around Lancaster, Morecambe, Carnforth and the rural surrounding areas. Lancaster District CVS supports their members by building networks and partnerships, creating infrastructure that helps them to succeed, and providing practical help and advice around funding, governance, volunteering and financial services.
Their goal is to empower and support organisations and networks to become strong and independent by operating transparently, whilst putting quality and sustainability at the heart of everything they do.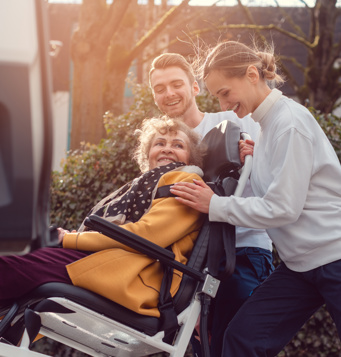 What did Lancaster District CVS want to achieve?
Lancaster District CVS wanted an efficient way to link the public, health services, and wider public sector organisations to the huge variety of services delivered by VCFSE organisations in their area.
They wanted individuals to be successfully signposted to support and activities that would best suit their needs. To do this everyone involved needed better visibility of what was available. Local NHS services and Lancaster City Council wanted to access up-to-date information on the support groups and activities currently available, so that they could empower their staff to successfully find provision which might meet the needs of their own diverse service users.
What was the solution for Lancaster District CVS?
Lancaster District CVS decided they needed a fully accessible Directory of Services that was optimised and categorised accordingly to make it user-friendly, and to have all information in one place.
They started working with us at Access Elemental Social Prescribing and together with Morecombe Bay Partners we launched a public directory.
Our public directory allows anyone to access the route they wish to follow. Through self-registration on their site individuals can search through the list of activities, groups, and support networks to choose the services they wish to attend to get the help and support they need.
With Lancaster District CVS using our Access Elemental Population Plus Enhanced module we are able to help Lancaster CVS upkeep the directory on a separate website which users can click on to make their journey even easier to find the support they want or need.
Through monitoring the directory on a separate website we can easily track and monitor records to identify which services are the most popular, which referral agents are making the most referrals, and how many self-referrals Lancaster District CVS are receiving.
What are the outcomes?
Through establishing a public directory with Lancaster District CVS, they hope to achieve many of different goals to improve the wellbeing of their community.
1. Great customer feedback
There are three key challenges for us. Trying to prove the demand exists, creating capacity to meet that demand and to make a point about the level of impact that can be delivered by these services. Tools that Access Elemental software provide are a way we can link these three issues up and solve them.
Nick Smith, Senior Administration Officer, Lancaster CVS
2. Great stakeholder feedback
One outcome which Lancaster District CVS are extremely happy with is the feedback they have received from stakeholders about the public directory.
Since the launch, Lancaster District CVS have received extremely positive feedback from stakeholders and that they are very impressed with it.
One thing they are most impressed with is how easy it is to use and the presentation of the directory itself and how this helps give people confidence in the system and the process. Through the public directory being easy to use and follow, it reassures individuals that Lancaster District CVS will help provide individuals the help and support they need by offering a variety for each category.
Another key element they have been impressed with is how adaptable the directory can be to change.  Services have been categorised and re-categorised to best suit the help which individuals will be searching for.
3. Encouraged collaborative working with organisations
Lancaster District CVS employ a full-time member of staff to maintain the public directory, help build relationships with the services it advertises, and add as much information on them as possible to help categorise the services accordingly.
Through being able to have the time and resources to organise this, end-users have a better, easier, and more efficient experience in finding the services they want to attend. Instead of aimlessly scrolling through long lists of support services which can be very overwhelming, end-users can select a category they specifically want to know more about and only services that fit under that category will appear.
This makes the process of finding a service which could help an individual quicker, more efficient, less overwhelming, and reduce the chance of individuals losing interest as they can find a service they are interested in straight away.
Through the project, Lancaster District CVS aspire to drive better community spirit by encouraging greater collaboration between services. In particular, they want to encourage new referral agents to use their public directory and signpost individuals to the support they require. These new referral agents include public-facing occupations such as fire safety teams and the local police, who Lancaster District CVS would like to encourage to make referrals alongside the existing referral agents in General Practices.
4. More enhanced record keeping
By using our social prescribing platform, Access Elemental Social Prescribing, Lancaster District CVS will be able to record, track, and monitor their data better.
Now they have a better data flow which will generate a robust evidence base and create better transparency to help with commissioning and funding. It demonstrates evidence for the directory by calculating the number of referral agents using the directory, the types of referral agents using the directory, and the impact these services are having on individuals after they have used the services through recording pre and post wellbeing scores.
This improvement in individuals' wellbeing will demonstrate to stakeholders and commissioners the benefits that support services and social prescribing groups have on communities, and how it re-engages and rebuilds communities to ensure inclusivity and diversity.
What is the future for Lancaster District CVS?
Lancaster District CVS now have over 250 services on the directory, and it's growing all the time. They now want to improve the directory by enhancing the user journey further. Even though the categorisation of services has been successful and efficient, Lancaster District CVS would also like a free text search function.
For individuals that know exactly what they are looking for, this will help their journey be faster and easier, by only showing the specific services that match their search instead of them having to search through categories which may already contain lots of services, some which an individual would not require.
Lancaster District CVS will build on their successes to help secure more funding and more volunteers to improve their directory and relationships with other VCFSE organisations further. One way we are working with Lancaster District CVS to do this is by finalising our development of a two-way integration between their public directory and GP practices. This will allow us to build more internal processes to allow the public directory of services to grow sustainably as GPs, nurses and receptionists can refer patients straight to the CVS link worker to receive recommendations about suitable services.
We can see the demand to generate referrals and we are looking forward to progressing our work with Access Elemental to receive referrals from General Practice members soon.
Nick Smith, Senior Administration Officer, Lancaster CVS
We are delighted to be continuing to work with Lancaster District CVS and finding more unique ways to grow their Public Directory further. We want to help engage more people and further enhance their community spirit to prevent any prejudice and promote more diversity.
For more information on how our social prescribing platform can help improve the wellbeing of your community and the delivery of your services, discover our social prescribing software today.
Or contact us directly for more information on how our customers have achieved great outcomes and secured additional funding through working with us at Access Elemental Social Prescribing.
Find out more about Social Prescribing software