Roundsman
Access Roundsman (formerly Isys Roundsman) transforms wholesale distribution companies with one joined-up system allowing depot, delivery drivers, and back-office teams to work more efficiently and deliver better customer service.
Plan, manage, and track delivery rounds and stock movements with our completely paperless solution giving you greater control and visibility across your business.
contact us
book demo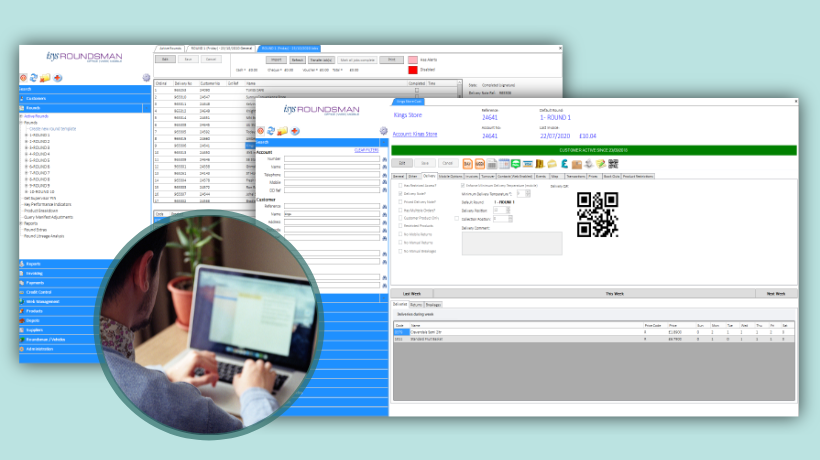 Why use our Access Roundsman?
Whether you have a local concentration of customers or hundreds across multiple localities, Access Roundsman can benefit your business in a variety of ways. Cut back manual data entry and errors, optimise delivery drops, stay on top of stock levels, take customer orders online – our Roundsman system make all of this easy.
Your teams have access to one view of the truth – whether they're in the depot, the office or out on deliveries. Updates are shown as they happen, giving everyone the latest information they need to provide excellent customer service.
You can manage your stock far more effectively and responsively too, which reduces wastage and storage costs, and improves cashflow.
How much guidance and support do you provide for set-up?
Using proven implementation plans which cover every step of the process, our in-house developers work with you to get you up and running quickly. And because Access Roundsman is a fully integrated system which is intuitive, flexible, and built with wholesale and distribution businesses in mind, it's easy for your staff to get to know and use.
How does Access Roundsman benefit our customers?
You can give your customers access to your branded portal where they can place orders, track order status, check invoices and report on their account. They'll find everything they need to manage their account on a day-to-day basis. This level of self-service is not only popular with customers, it's also an effective way of reducing the workload for your back-office team.
What management information is available?
Not only is it easy to see what's happening – on a round by round basis, in the depot, with customer accounts, with payments – managers can also access a suite of standard reports, or customise new ones, to keep track of how the business is performing.
How much does Access Roundsman cost?
Our pricing structure takes into account the size of your wholesale distribution business and the number of users accessing the system. Talk to us about your requirements and we can provide you with a pricing structure as well as a clear insight into how you will achieve a return on your investment.
I need support with Access Roundsman, where do I go?
Explore our wholesale distribution solutions